Research
Black Neighborhoods, Gentrification, and the Great Recession: Study Reveals a Mixed Bag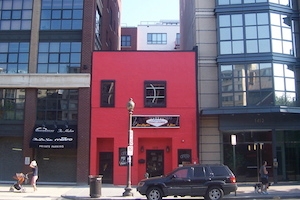 "The US Great Recession: exploring its association with Black neighborhood rise, decline and recovery," an article co-authored by SPA Associate Professor Derek Hyra, was published online by the academic journal Urban Geography.
In the article, Hyra and co-author Jacob Rugh discuss the effects of the 2007-2009 recession on three historic, redeveloping black neighborhoods: Bronzeville in Chicago, Harlem in New York City, and Shaw/U Street in Washington, D.C. The authors found that the effects of the downturn were predictably negative on lending rates in all three neighborhoods. But the neighborhoods had very different experiences coming out of the recession: Harlem and Shaw/U Street became trendy mixed-race, mixed-income neighborhoods, while property values in Bronzeville continued to decline.
Hyra and Rugh attribute these different outcomes to different types of gentrification: Harlem and Shaw/U Street had a much higher percentage of whites and affluent African Americans than did Bronzeville.
While the Great Recession hit African American neighborhoods hard, the authors show that their recovery was shaped by several factors, including racial and class neighborhood transitions, citywide unemployment, and the condition of housing markets.
The three communities examined in the Urban Geography article have figured in Hyra's research before. His first book, The New Urban Renewal: The Economic Transformation of Harlem and Bronzeville, was published by the University of Chicago Press in 2008. A second, examining the District's Shaw/U Street neighborhood, is forthcoming from the same press, titled Making the Gilded Ghetto: Race, Class, and Politics in the Cappuccino City.
Hyra has received grants from the Rockefeller Foundation, the Social Science Research Council and the U.S. Department of Housing and Urban Development, and his findings have been showcased in journals such as Housing Policy Debate, Urban Affairs Review and Urban Studies, and popular media outlets, including the British Broadcasting Corporation, Chicago Public Radio, C-SPAN, The Washington Post, The Wall Street Journal, and The New York Times.
Hyra received a B.A. from Colgate University and a Ph.D. from the University of Chicago. Rugh, his co-author, is an assistant professor in the Department of Sociology at Brigham Young University in Provo, Utah.