Alumni
Henry Watson: A Call to Service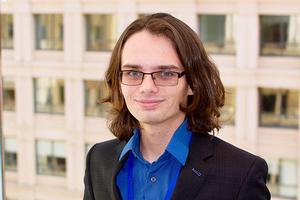 Henry Watson, SPA/BA/MA '18, says he came to American University in 2014 as a bright-eyed idealist ready to take on the world.
"I felt very inspired that one person could come to this town and reorient politics and public policy to serve people who feel a bit left behind by government," says the 22-year old from the small town of Novelty, Ohio.
Four-and-a-half years later, with a bachelor's in political science and a master's in public policy to be awarded to him at AU's Fall 2018 Commencement, Watson says he remains optimistic and eager to contribute.
Watson is a full-time research associate at The Pew Charitable Trusts, a position he has held for a year and a half, while continuing to attend AU full time. He is applying for doctoral programs in public policy and management for the fall with an interest in low-income housing policy.
"Housing is at the core of our poverty problem and fixing that – giving people a foundation and source of stability – is a critical public policy goal," Watson says.
While on campus, Watson was involved in the SPA Leadership Program, working on projects with youth empowerment in the Boys & Girls Club and political engagement with economically disadvantaged populations. He interned on Capitol Hill and at the Bipartisan Policy Center and the Center on Budget and Policy Priorities.
"In D.C. there can be a lot of cynicism, especially around politics — a feeling that nothing really works, and maybe for that reason we shouldn't try," Watson said. "But each of us graduating from AU has the capacity, tools, passion, and now the education to rise up, to be successful, and to change the nation and the world."
"Never let anyone tell you otherwise," Watson said. "Never let anyone tell you that the problems of this world are too big and that your efforts are too small or too unimportant to make a difference to anyone. It only takes one person to change someone else's life for the better. It only takes one person to step up, and change the course of the future. That person might as well be you."