On Campus
Welcome Paul Manuel, SPA Leadership Program Director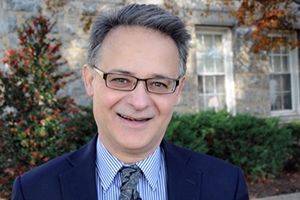 Paul Christopher Manuel has joined AU School of Public Affairs as new director of the SPA Leadership Program and professor of government.
Dr. Manuel founded and directed the Institute for Leadership Studies at Mount St. Mary's University in Emmitsburg, MD, and, before that, he co-founded the New Hampshire Institute of Politics at Saint Anselm College in Manchester, N.H. He was a tenured professor of politics at both institutions.
The highly selective SPA Leadership Program includes a four-year, 15-unit course of study that culminates in a Certificate in Advanced Leadership Studies. This year's entering cohort of 42 students hails from 20 different states and Pakistan.
"We are delighted to have Professor Manuel join the SPA faculty," said Barbara Romzek, dean of AU's School of Public Affairs. "His extensive expertise as a teacher, scholar, and an administrator position him well to build upon the strength of our Leadership Program."
Manuel holds a research fellow appointment at the Berkley Center for Religion, Peace and World Affairs at Georgetown University. He is also an affiliate at the Minda de Gunzburg Center for European Studies at Harvard University, where he co-chaired the Iberian Studies Group. He has received Fulbright and National Endowment for the Humanities research grants. Dr. Manuel has served on National Selection Committee for the graduate Fulbright program in Spain and Portugal, and on the Executive Council of the New England Political Science Association. Dr. Manuel received the Saint Anselm College President's Award in 2006.
A Massachusetts native, Dr. Manuel holds a Ph.D. in government from Georgetown University, an M.T.S. from the Boston College School of Theology and Ministry, an M.A. in International Relations from Boston University, and a B.A. in Political Science from Boston University. He has also studied at the Institut d'Etudes Politiques in Paris, and the University of Coimbra and the University of Lisbon, both in Portugal.
Dr. Manuel is the author or co-author of seven books and numerous articles. His research addresses issues related to comparative democratization, comparative public policy, and the relationship between religion and politics, with an emphasis on Portugal. Publications include The Path of American Public Policy: Comparative Perspectives (Lexington, 2014), The Catholic Church and the Nation-State: Comparative Perspectives (Georgetown University Press, 2006) and The Challenges of Democratic Consolidation in Portugal (Praeger, 1996). An article, "Clericalism, Anti-Clericalism and Democratization in Portugal and Spain," appeared in Religion and Politics in Comparative Perspective and was published by the Cambridge University Press.