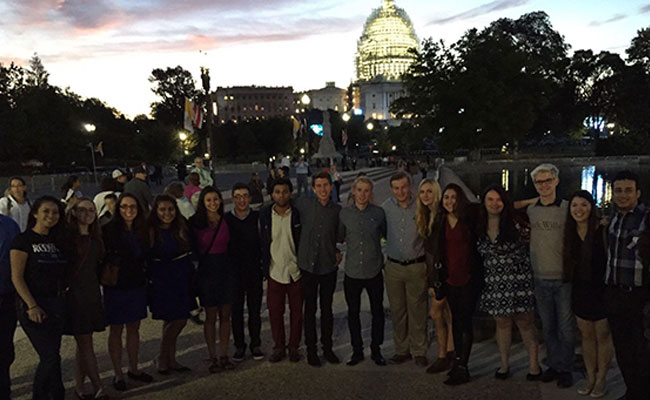 Class of 2016
Kyle Anderson
Dean's List Spring 2014 and Spring 2015
Applied for and won a $500 grant for the university to improve biking facilities on campus
Kyle works for the AU Athletics Department running the scoreboard for various sports.
Internship experience includes WMATA (Government Relations Office and the Communications Office)
Emoni Fitch
Emoni Fitch is a third year scholar in the Politics, Policy and Law Program and University Honors Program. She is from Winston Salem, North Carolina and is pursuing the CLEG major. She is interested in criminal law and legal policy. During her time at AU, she has interned with the United States Department of Agriculture and worked for the Department of Public Administration and Policy. She participates in community service through AU's Chi Alpha Campus Ministries, and also participates in the Chinese language club and Black Student Alliance helping to build a strong community here at AU.
Clare Verbeten
Clare was the recipient of the Alice Lee and Lau King Quan Award, an SPA donor funded scholarship, for displaying a dedication to public service. She served at the West African Region Ambassador for African Student Organization. Clare was a 2015 Vagina Monologues Cast Member. She is a member of the Education Not Debt Student Coalition as well as the Collective Action and Social Justice Coalition on campus.
Clare was a Party Affairs/Outreach intern at Democratic-Farmer-Labor Party in St. Paul, Minnesota. She also interned at the National Immigrant Women's Advocacy Project (NIWAP) at American University's law school. This summer, Clare has a internship with Women Winning, an organization that helps elect pro-choice females candidates to office throughout the state of Minnesota. As a part of their Political Leaders of Tomorrow program, she is currently working on Peggy Flanagan's campaign for State Representative. This fall, Clare looks forward serving as an AU Peer Education for the Elimination of Sexual and Relationship Violence as she completes her last semester at AU. She will also be interning at the Democratic National Committee in Washington, DC.
Taylor Cox
Taylor Cox is a third year student in the Politics, Policy, and Law Scholars Program. She is from Macon, Georgia and will graduate with an interdisciplinary major in CLEG (Communication, Law, Economics, and Government). She is interested in environmental policy and communications, and has spent time interning with nonprofits such as Potomac Riverkeeper and American Rivers, as well as government agencies like Montgomery County Department of Environment and the U.S. Environmental Protection Agency. Taylor has spent her time on campus dedicated to creating a new move-out program to reduce waste students leave behind as they move out for the summer. She has also held leadership positions in AU College Democrats and Student Government. In her second year, Taylor was awarded an honorable mention for the Udall Scholarship, awarded to college sophomores and juniors for leadership, public service, and commitment to issues related to American Indian nations or to the environment.
Chris Monaco
Chris is interning in government relations at WMATA this summer. Recently he wrote a letter to the editor, published in Crains Chicago Business.
Alex Romero
National Academy of Public Administration, Congressional internship for Congressman David Schweikert (AZ-6), Study abroad at the London School of Economics.
Class of 2017
Gabriel Benitez, SPA/BA '17
Gabriel Benitez is originally from Anaheim, CA, a city in Orange County most notably known for being the home of both the Los Angeles Angels of Anaheim and the original Disneyland Resort. Gabriel, who is majoring in CLEG, is known among his PPL peers as being a staunch libertarian; he currently serves as the Secretary for AU Young Americans for Liberty and Vice President of AU Students for Liberty, as well as Membership Development Coordinator for the Latino and American Student Organization. In the past, Gabriel has volunteered as a tutor at his local public library, a member of food service personnel for Midnight Mission, a nonprofit organization dedicated to offering services to the homeless population of Skid Row in Downtown Los Angeles, and as a general volunteer for the 2015 Special Olympics World Summer Games in Los Angeles. In his first year at AU, Gabriel has worked as a paid tutor for DC Reads, an organization that offers academic support for elementary and middle school students all over the District of Columbia.
Cameron Cluff
Cameron made dean's list first semester. He interned for Jeffrey J Kimbell and Associates during the school year and am is currently interning for Judge Brian Stern of RI Superior Court. In the near future he will be working at the Republican Governors Association as a Campaign Finance Intern.
Asha Smith
Asha is a teacher's assistant at Higher Achievement.
Magdalene Bedi
Magdalene interned with HRC and Covington and Burling. She received an award by Americans United for Separation of Church and State for Youth Activism and is the Director General for the Washington International Relations Conference.
Nick Guthman
Nick will be serving as the President of the College Democrats for the upcoming school year.
Emma Ashooh
Emma has been studying abroad in Jordan learning Arabic and interning at UCMAS Jordan.
Benjamin Freundlich
In his Freshman year, Benjamin interned at Progressive Majority. This summer he interned at Essex County Freeholder Board and the Manhattan Borough President's Office. He works at Public Safety on campus as a Public Safety Aide.
Quinn Dunlea
This past year Quinn worked on a sexual violence awareness project called "Piece of the Solution" on campus through SPA Leadership and hosted an awareness wall with AU survivor's stories, statistics about the problem at our school specifically, and the 150+ pledges to be a "piece of the solution" to rape culture that students submitted. In summer 2015 she studied abroad at the London School of Economics, taking Introduction to International Human Rights Law and the Political Economy of Public Policy.
Sara Goodwin
Sarah recently finished a study abroad program in Dublin where she interned for a city councilor. She made the Dean's list in 2015.
Hyatt Allen
Hyatt is the Associate Student Director of the Prichard Committee Student Voice Team. The Prichard Committee Student Voice Team works to integrate students as partners in education policymaking and elevate student voice.
Eva Schwarz
Eva will be interning this fall with Senator Tammy Baldwin (D, WI).
18
States Represented by PPL Students
3
Countries Represented by PPL Students