Alumni Profile
PhD Grad to Lead Change in Colombia's Public Work Force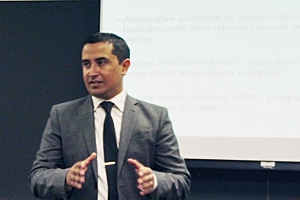 Professors not only impact students, sometimes their work also can make changes at a national level. Case in point: Pablo Sanabria will put his SPA education to work as he leads a team to modernize Colombia's public sector workforce.
Sanabria, SPA/PhD '12, recently won a $700,000 grant from the government of Colombia to design the framework of a comprehensive policy that promotes innovative and effective human resource management in the public sector.
"Colombia's public sector gets a mixed review, with modern HR practices in some organizations and less desirable practices such as cronyism, political patronage, and clientelism in others," explained Sanabria, a faculty member at the University de los Andes in Bogotá. "The purpose of this grant is to establish a new baseline for Colombia's public sector and help modernize its human resource management system."
SPA edge
There was strong competition in the selection process from other schools backed by seasoned researchers, but Sanabria says his doctoral studies in public administration at SPA "gave me the edge. I had state-of-the-art methods and literature at my disposal in developing our proposal." Sanabria added, "Public administration research in Colombia does not have a strong empirical base, particularly in the use of quantitative and qualitative methods, which we were able to bring to the table with this project."

"American University's ideals of serving society and putting ideas into action have shaped me personally and professionally."
---
After finishing his PhD in only three years last year, Sanabria joined the faculty of the Alberto Lleras Camargo School of Government at the University de los Andes, Colombia's top-ranked university and one of South America's top five. Sanabria's research team will include nearly 20 faculty members and student research assistants from the schools of government, business, and law to develop a comprehensive view of human resource management in the public sector.
About the project
The two-year project will start with baseline research to understand the state of Colombia's human resources in the public sector. Taking a bottom-up approach to the research, the team will work with public officials and human resources offices to document current practices and expectations in public sector employment. Simultaneously, the team will undertake a global review of best practices in both theory and practice. The research will culminate in recommendations for the design of a comprehensive human resources policy as well as evaluation methodologies that can be used to measure the policy's effectiveness in the future.
The project is a natural outgrowth of Sanabria's PhD dissertation, which analyzed the professional paths of former study-abroad students in Colombia to understand their career choices. Sanabria found that public service motivation, age, and previous experience were among the many factors playing a role in public sector career choice in Colombia.
"Younger workers are more inclined toward public sector, but that changes as people age," he said. "Many young college graduates are interested in working in the public sector, but discover there is not an easy or well-defined route to getting these kinds of jobs, and they end up finding other ways to satisfy their desire to help society."
On the other hand, Sanabria found that those who take the public service path can sometimes be demoralized by their work, feeling that their contribution is not significant enough, paid enough, or appreciated enough by society. "It's important that we make sure that policies and practices are in place to keep public sector workers motivated and feeling valued," said the researcher.

Service-driven career
Sanabria knows firsthand the lessons and challenges of a service-driven career path. After earning a master's degree at the London School of Economics, the Bogotá-born professor spent several years in the public, nonprofit, and private sectors before returning to academia, where he felt he could have the greatest impact.
"I realized that I could have a multiplying effect as an academic scholar, especially by helping educate Colombia's future leaders," said Sanabria, who is designing two new master's programs at the university and serves on the board of directors of the International Research Society for Public Management in addition to teaching and research.
Sanabria hopes to have the same impact on his students that AU had on his career trajectory and beliefs about public service.
"American University's ideals of serving society and putting ideas into action have shaped me personally and professionally," said Sanabria. "My PhD helped get me where I am today – teaching at a top university, doing research I love, and hopefully making a lasting contribution to public affairs in my country."