Student Success Story
Nigeria to Iraq to SPA: MPP Student Aims to Make a Difference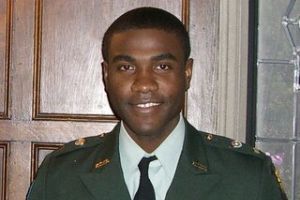 Between his time serving in Iraq and Afghanistan and living in Nigeria, Chigozie Ogwuegbu-Stephens has witnessed the potentially devastating effects of poor public policy.

Ogwuegbu-Stephens came to the U.S. when he was ten, grew up in DC and subsequently headed north to attend Middlebury College in Vermont. After graduating in 2002 with a Bachelor's in international affairs, the ROTC leader enlisted in the army, serving as an intelligence analyst in both Afghanistan and Iraq.

While in Afghanistan, Ogwuegbu-Stephens worked directly with some local leaders on humanitarian projects, helping their villages build schools and roads. "These are some of the positive things happening at the grassroots level," said Ogwuegbu-Stephens, who started SPA's MPP Program in 2007. "I became more politically conscious being in the military, seeing how policies affect us. But as a soldier you're so far down the chain of command you can't change anything."

After his homecoming, the squad leader decided to take advantage of the ROTC's opportunity to take two years off for paid graduation education. "AU has a top-notch policy program, and I figured I might as well go and learn from the best," the 26-year-old student explained.

Public Policy Analysis, one of the MPP's foundation courses, is "the bread and butter" of the program, he said. "There are so many issues to try to address – this class gives us a format for addressing these problems."

While Ogwuegbu-Stephens has just started the MPP program, he thinks "the curriculum is great. They give you what you need, and everything seems like it will build on each other. At the end of the three years we will be equipped to go into the big bad world and attack the whatever problems we want."

For Ogwuegbu-Stephens, that might well mean going back to Nigeria, where his grandmother still lives. "There is a disconnect there from the top on down, with corruption and inefficiency in the financial systems and government," said Ogwuegbu-Stephens. "I saw this firsthand growing up – I want to learn how to fix these problems."