Student Success Story
MPA Candidate Scales Capitol Hill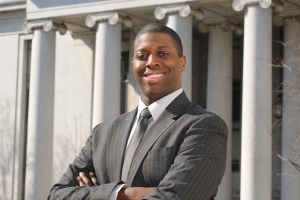 Location, location, location. The mantra of real estate applies to education too, as Curtis Johnson knows well. As an MPA student with a focus in politics, being in the nation's capital has been critical to his graduate schooling.

Early on the program, American hosted a "Day on the Hill," where Johnson got to speak to congressmen-cum-AU alums, who talked to students about how the university had prepared them to be members of Congress. The experience inspired Johnson to go on a one-man, day-long expedition of Congress in search of employment. He showed up armed with 20 resumes, a homemade map of strategic offices and most importantly, "a suit and a smile."

"I dropped off my resume at every congressperson's office from Illinois and Georgia, where I had ties. At the 18th office, the chief ran after me down the hall and gave me an interview," Johnson said.

That interview led to Johnson's becoming legislative correspondent to Congressman Bobby Rush, which entails advising Rush on labor, transportation, social security, and pension issues. The synergy between his work on the Hill and schoolwork at SPA has been great. For example, he's in charge of redesigning Rush's website – a skill he learned in a class on politics and policy in the electronic age. Meanwhile, a course on grassroots lobbying he took this summer helped him learn how to frame issues to diverse interest groups. He is now putting that skill into practice on a bill he's helping to write involving stakeholders as diverse as psychotherapists, Girl Scouts and incarcerated mothers.

Johnson grew up in Chicago, "where politics is second to religion. I was very active in a rather large church. Anyone running for president, governor or mayor would have to come speak to our church. … I always knew what time of year it was by who was sitting in the front row," he quipped. "Sitting there in the front row, I thought, 'I can do that.'"

Upon receiving his acceptance from Morehouse College in Atlanta, Johnson's parents sat him down at the kitchen table and told him he wasn't getting up until he picked a major.

"They weren't going to pay for four years of college for me to find myself," he said. While he was interested in politics, he thought the pre-law track was too predictable. "At the time the biggest thing on the national radar was balancing the budget, so I thought I would be a business major and learn how to manage finances," he explained.

While at Morehouse, Johnson befriended businessman-turned-politician Herman Cain's son, Vincent. When the elder Cain decided to run for U.S. Senate, he asked Johnson to come on board his campaign as a volunteer field representative. One year later, he worked on another statewide campaign as political assistant to Sacha Taylor, wife of Lt. Governor Mark Taylor. Working for Mrs. Taylor was a tremendous experience: "There's an expression, 'you have to be in the room' – in every campaign I've worked with, I had a chance to be in 'the room,'" Johnson said.

These experiences fueled his passion for politics and government, leading him to apply to SPA's MPA program.

"The program attracts a lot of professional government employees. The real beauty of the program is it gives someone from my perspective a chance to hear about government from their perspectives. Sometimes politicians pontificate on different types of legislation they'd like to propose or ideas they have without hearing feedback from the agencies on how feasible it is," Johnson said. "I think it's helpful for all parties when we take that discussion from class back to our desks on Monday mornings."