Alumni Success Story
Entrepreneur Ben Lamson, SOC/BA '07, Founded Website Named to Wall Street Journal's List of Top Start-ups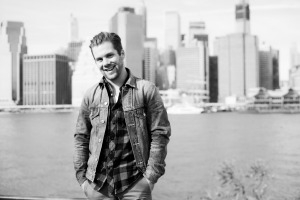 Ben Lamson's company recently was named to the Wall Street Journal's list of top start-ups. Founded just over 18 months ago, WeDidIt.com is an innovative fundraising platform that seeks to empower anybody to fundraise anywhere.
"When we started, we felt there were a lot of holes in other fundraising platforms, so we decided to start our own venture to fill the holes. We really wanted to take the guesswork out of developing and managing fundraising campaigns," said Ben.
The firm, which now employs 12 and boasts over 200 clients, including big names such as Amnesty International and the New York City Coalition Against Hunger, continues to expand under Ben's leadership.
After growing up in a small town in Michigan, Ben came to AU as a wrestler. Unsure of what he wanted to do, he switched his major several times before graduating from the School of Communication with a degree in public communication. Although most of Ben's classes weren't related to his current career (he even admits that he never imagined working in the non-profit world), he credits his time at AU with being instrumental to his development.
"I really came into my own [at AU]. I met a lot of neat people, made great connections, and had a lot of experiences that really broadened me," said Ben, as he cited a list of other alumni friends who had gone on to create successful businesses of their own. 
Looking toward the future, Ben has high hopes for his company. As a result of the Wall Street Journal's recognition, he is now being mentored by several successful tech-industry giants, including Nancy Lublin, founder of DoSomething.org and Jean Case, the CEO of the Case Foundation and wife of AOL founder Steve Case.
"Being mentored [by Case and Lublin] has been great. They've been really accessible, helped us make connections, and provided some beneficial advice," said Ben. "I hope that within the next five years, WeDidIt.com will be a recognized leader in the non-profit world."   
At the same time, Ben remains open to whatever possibilities the future holds. He urges current AU students to do the same. "The whole idea that we should know exactly what we want to do after high school is a bit silly—I'm not even completely sure what I want to do with the rest of my life," he says. "Just pursue your passion and the rest will take care of itself."