Faculty Success Story
Native Haitian Advises Central Bank on Economy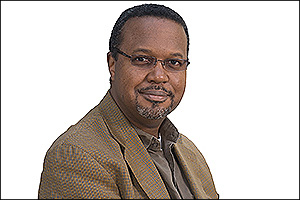 Academic endeavors rarely are more personal than the one that now consumes Rene Aubourg.
The School of Public Affairs professor recently traveled to his native Haiti to teach the first classes in a collaborative effort between AU's Center for Public Finance Research and the country's central bank. Stemming from connections Aubourg made while he worked at the Central Bank of Haiti, the pilot program will offer customized training and targeted technical assistance to members of the Haitian government to strengthen its institutional capacity.
"The ultimate goal is to provide these people with a set of skills so they can become very good at setting their own policies," says Aubourg. "We want to give them the tools to negotiate with international financial institutions."
Haiti is one of the poorest countries in the Western Hemisphere, a fact Aubourg knows all too well—and is determined to change.
Aubourg grew up in Port-au-Prince, the capital of Haiti, and was in his late 20s before he set off to the United States as the recipient of a U.S. Agency for International Development scholarship to Indiana University. There he decided to leave civil engineering and follow his passion for public affairs. In 1995 he returned home to become acting director of the money and economic analysis department at the central bank. That was the first in a number of development positions he held throughout the Caribbean.
"I come to teaching from a practitioner's background in the sense that for the last 15 years I've been working as an international consultant."
Aubourg arrived at AU in 2005, and while he still consults, primarily for the International Monetary Fund, he is focused on educating his fellow countrymen on the intricacies of economic growth in the public sector.
The 20 civil servants selected by the Haitian government to participate in the AU program will take eight courses, all taught in the central bank building, and earn a certificate in public finance and public policy.
"They are extremely enthusiastic," Aubourg said of his students. "I would hope that with time the overall situation of the country will improve. It is very interesting for me to notice that there is quite a large Haitian diaspora outside of Haiti. For the past four semesters here at AU, I have had in every class at least one person of Haitian origin. It's unfortunate that all of this knowledge does not go back home."
Unfortunate, but maybe not inevitable. Through his work, Aubourg is providing his Haitian students—his countrymen—with one more reason to stay.