Alumni Success Story
Nevadan James Bilbray Enjoys
Long Government Career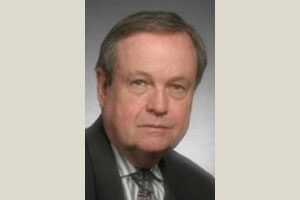 In the early 1960s, the U.S. National Capitol Police resembled an academic fraternity of future Congressional leaders: from Nevada, future Representative James Bilbray and Senator Harry Reid patrolled the corridors, while future Vermont Senator Patrick Leahy served as an elevator operator.
Bilbray, SPA/BA '62, WCL/JD'64, was among a dozen graduate students – congressional patronage jobs – who worked midnight to 8 a.m. and then showed up for law school classes at 9 a.m. three times a week.  
Bilbray's first taste of politics was walking the precincts with his dad, the county assessor in Las Vegas, when it was a town of 20,000. "Politics is almost like a virus," he says. "There is no cure for it, but only sickening defeat."  
Following stints in student government in high school and in college, Bilbray transferred to AU to study government while working as a legislative aide for Nevada Senator Howard Cannon. For one of his classes, Bilbray wrote a paper about the Kurds' political oppression; nearly 40 years later, he urged a Congressional resolution for sanctions against Saddam Hussein following his massacre of Iraqi Kurds.  
Upon completing law school at AU, Bilbray returned to Nevada to serve as assistant district attorney and then on the Board of Regents for the University of Nevada.  
Bilbray began his political ascent in 1980 as state senator; six years later he ran for U.S. Congress and served four terms. More political appointments followed: the Board of Visitors of the United States Military Academy, the National Security Policy Advisory Board, and the Base Closing and Realignment Commission.  
He considers his efforts to reform Nevada's tax structure, introducing wilderness-protection bills in Congress (one of which quadrupled the size of the Red Rock National Conservation Area), and supporting the Americans with Disabilities Act as his biggest career accomplishments.  
In 2007, the Senate confirmed Bilbray to a nine-member Board of Governors of the U.S. Post Office for a nine-year term. He also serves on the California-Nevada High-Speed Train Commission and has a stake in a small Nevada defense contracting business.