Alumni Success Story
John Tranfaglia, SPA/BA '13, Providing Solutions to Preserve the Maine Lobster Industry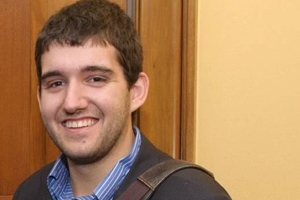 "I think the biggest mistake that the lobster industry has made is not being proactive towards marketing the product out of state."
So says alumnus John Tranfaglia, SPA/BA '13, about his efforts to promote initiatives to save Maine's most identifiable industry - lobsters. Without changes, many believe that the business of catching lobsters in the state of Maine will die.
John first became involved in the lobster issue as a member of the Roosevelt Institute at American University. As a member of this organization, he was challenged to look at public policy problems and highlight possible solutions that might alleviate them. "I had read in the newspaper a few times about some of the troubles that the lobster industry was having with marketing the product and thought it would be interesting to look into the issue further," says John.
The Roosevelt Institute is the first student-run policy organization or "think tank" in the United States. Its mission is to empower students to create and advocate their ideas for change. Including the AU chapter, there are 8,500 active members and over 80 established chapters in the U.S. and abroad.
John describes how, until recently, there were very few processing plants in Maine to break down and freeze the product so that items such as lobster meat or tails could be sold.  Much of the lobster caught off the coast of Maine is sent to Canada to be processed. Once it crosses the border, it is marketed as Canadian lobster. This leads to price markups that increase dealers' profits while shrinking the profits of the lobstermen.
Once caught, a lobster can change hands five or six times before reaching the consumer's plate. However, lobstermen are getting paid as little as $2 a pound for their catch – while the price can escalate to $18 a pound by the time it reaches a restaurant menu. 
John believes that the best way to raise profits for the Maine lobstermen would be to increase processing capabilities in Maine. "Last year, over 133 million pounds of lobster was caught off the Maine coast but much of that was sent to Canada for processing," he adds. John thinks that if either the processing costs could be reduced or if lobstermen could co-op with processors, then their wages would increase considerably.
When reflecting on his passion for the Maine lobster industry, John admits that he actually was born in Ann Arbor, Michigan. However, his family moved to Cape Elizabeth, Maine, when he was two years old. "I have lived there ever since and it is what I have come to know as home," he says.
In describing why he chose to attend AU, John states that he wanted to go to a school in the city, he wanted to be able to study and work in politics, and he wanted the opportunity to study abroad. "Going to AU allowed me to achieve all three of these," he remarks.
Now that John has graduated from AU with a major in political science and a minor in public administration and policy, he plans to leave Maine and move overseas. "In March, I will be moving to Seoul, South Korea, to teach English for a year," he says.
While in Korea, John will be planning his next step. He has an interest in health policy and has deferred his admission to the University of Melbourne for a master's degree in public health. "Studying abroad was something that has definitely impacted me throughout my time at AU. I loved Perth and plan on going back to Australia for graduate studies," says John.