Alumni Success Story
Brick by Brick, Birth by Birth, AU Alums Aid Reconstruction Effort in Haiti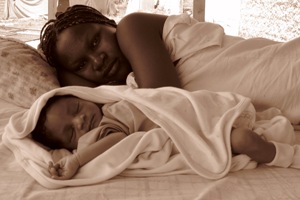 When the devastating earthquake hit Haiti one year ago, on January 12, 2010, U.S. Ambassador to Haiti, Kenneth Merten, SPA/MPA '86, and communications expert Heather Maurer, SOC/MA '02, sprang into action.

As ambassador, Merten has been doing yeoman's work. A deadly cholera outbreak, a recent controversial presidential election, widespread poverty, and seemingly endless piles of rubble are just a few of the problems he confronts daily. However, Merten reports Haiti is well on its way to recovery a year after the disaster, though the progress may not be readily apparent.

"[When] people come down here, they see there are still areas where there is unmoved rubble or buildings that are collapsed, and it still looks bad. But for those of us who have been here since [the earthquake], there has actually been a lot of improvement," Merten explains. Among those improvements: the court system is up and running; one third of the homeless population has a place to live; over 1.2 million cubic meters of rubble have been cleared by the U.S.; and now that groundwork has been laid, construction can begin on permanent infrastructure.

While the United States is dedicated to assisting Haiti, relying on foreign aid is not a long-term solution. Ambassador Merten stresses the importance of empowering Haitians by encouraging self-sufficiency and rebuilding a nation with an educated population of workers to sustain a stable economy.

Heather Maurer, SOC/MA '02, shares Ambassador Merten's belief that educating the people of Haiti is crucial to the recovery. Maurer is co-founder of Mother Health International, an organization dedicated to pre-natal and maternal health care and reducing infant and maternal mortality in Haiti.

Maurer was inspired to start MHI when she saw disturbing news footage of a Haitian woman on a stretcher giving birth in the middle of a street immediately after the earthquake. Upon realizing the baby was breech – presenting feet first instead of head first – the nurse who had been treating the woman abandoned her because she lacked the proper training and did not know what to do. Galvanized by the footage, Maurer knew she had to help, and so Mother Health International was born.

Currently, MHI has a nine-bed clinic in Jacmel where over 425 women have given birth. The clinic uses the natural midwifery model of care and is staffed by volunteer OB/GYNs and midwives from around the world as well as five paid Haitian women who are receiving midwifery training. "One hundred percent of the money we raise goes directly toward Haiti – the Haitian midwives in training and the clinic… We are educating and empowering these Haitian women to become midwives and to ultimately take over and run the clinic."

Brick by brick and birth by birth, Haiti is rebuilding. "For people to expect that everything will be up and functioning as it was before the earthquake in one year is unrealistic," Ambassador Merten says. But it certainly seems that with the help of dedicated AU alumni, Haiti is well on its way.