Alumni Success Story
Meet the Assistant Chief, Professional
Development Bureau, Metro Police Dept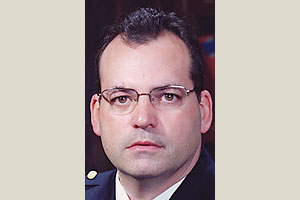 When Washington's police chief Cathy Lanier reorganized the Metropolitan Police Department, she needed an assistant chief seasoned enough to oversee recruiting, training, criminal intelligence, and the construction of a new DNA lab. Enter Joshua Ederheimer, SPA/BA '95.

With more than two decades of policing behind him, the justice grad and SPA adjunct professor makes guarding the nation's capital sound like just another day at the office.

A finger on the pulse
A typical day begins like this recent one: At 7:30 a.m. with a conference call detailing President Bush's itinerary, the previous night's major local crimes, and terrorist chatter from around the world. Before lunch, Ederheimer testifies before the city council on a proposal to expand the cadet corps, and pours over data in the criminal intelligence center to help plan officer deployment.
Back at his desk at noon, he tries to make a dent in an inbox overflowing with 250 daily e-mails, but there are human resources papers to sign, questions to answer from division commanders, and a meeting with the training director on a new online education initiative to help current officers stay on the beat as they learn new skills.

Inspiration
The path toward these hectic days opened for Ederheimer 25 years ago in an AU class, Policing in America. "You can blame Dick Bennett for me being where I am today," he says. "I took his class, and . . . I was hooked."

Ederheimer, who has previously commanded the force's police academy, environmental crimes unit, and civil rights and force investigation division, rushes to responsibilities that stretch into the night.

Examination
It's only when he's driving home in the darkness that he has time to reflect on why he does this every day. His career in law enforcement is studded with numerous awards, but it's something simpler he recalls when he thinks about why he's missing another dinner with his family.

"It's the small things that stay with you," he says. "I always think about this elderly woman I helped 10 years ago. She was getting scammed out of her car, and I helped her get it back. It was simple, but it just felt great. That's what I love about this job. You can really help people. And that's the best feeling there is."