Alumni Profile
Rayneisha Watson: From Cancer Research Scientist to Healthcare Consultant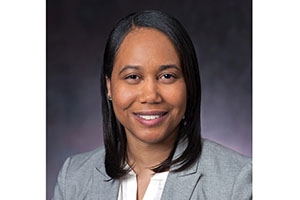 Rayneisha Watson, Kogod/MBA '08, is a healthcare and strategy consultant at Deloitte. She assists clients in the healthcare community with achieving their business development and strategic goals. Rayneisha says that motivation for starting a career in healthcare consulting came when she was a cancer research scientist. She had relationships with representatives who were selling [medical] products but didn't understand the technical and business side of science. It was then that she identified a niche opportunity in consulting for someone, like herself, who is well-versed on both sides. 
Rayneisha says that her education and experiences at AU were beneficial to her career: "The MBA program at AU provided real world experiences and prepared me for my first job as a consultant," she says. "I started my first job with the confidence that I could deliver and respond effectively to my client's needs. Furthermore, AU provided me with strong analytical, business development, relationship-building, and negotiation skills that are of tremendous value to my career." 
When asked what she enjoys most about her career, Rayneisha says, "I enjoy working with my clients, mentoring junior staff, and making a difference in the healthcare community. Deloitte [encourages] community service and career development. Therefore, a wealth of opportunities are available to enhance my professional and personal goals." 
Rayneisha admits that although consulting is a very demanding job, she couldn't imagine a better career. When asked where she sees herself 10 years from now, she says, "Consulting is very rewarding –as it provides a wealth of opportunities for [continuing education and professional growth]. I work with clients to solve tough problems and I see immediate results. And, as a manager, I have the opportunity to develop young business professionals. I see myself continuing to aid the healthcare industry in achieving better business, health, and patient-centered outcomes."
In her spare time, Rayneisha gives back to AU by volunteering on the Alumni Board. As a board member, she has the opportunity to work with other alumni who are passionate about their alma mater and provide feedback on how AU can continue to engage the alumni community. Rayneisha's favorite part of working on the Alumni Board is giving back to current students. "[I tell them] don't be afraid to take risks. Don't let fear limit your potential and possibilities, instead counter your fears by trying new things, pushing yourself, and exploring the unknown."