Alumni Success Story
Alumna Cynthia Augustine Publishes "Hello, Clawed!" Children's Book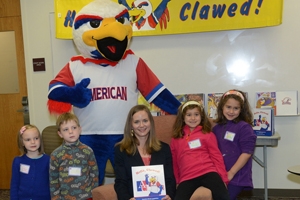 Cynthia Augustine, CAS/BS '03, had a very unique experience at AU. As a mascot performer during her time on campus, she was so inspired by Clawed's interaction with the staff, students, and faculty at AU, she decided to document his exciting adventures in a book, Hello, Clawed!
Hello, Clawed! takes readers on a journey detailing Clawed's experiences as he leaves class at Kogod and explores AU's campus on his way to a basketball game. His exciting trek includes grabbing coffee at the Dav and hanging out at the Quad before taking flight over campus to support the Eagles.
Cynthia, who is a statistician by day and author by night, says that while she loves working in research, she most enjoys writing. "I've always enjoyed writing and wanted to be a journalist in elementary school. I love to let my creative side loose. While there's some room for creativity in statistics, there's a lot more freedom in a world where Clawed can actually take flight over the AU campus!"
Cynthia admits that while writing the book allowed her to express her creativity and love for AU, the process of publishing a book isn't easy. "The hardest part was finding a great illustrator. I tried a few different illustrators before making my decision. The illustrator had a lovely style about her work that really captured the fun and carefree nature of Clawed and the beauty of the AU campus." 
When asked what advice she would give to those who are interested in writing books, Augustine says, "I think the key to writing a book is to write about something you love. I love AU and Clawed, and it was very pleasant to have long discussions with people about the book or random ideas popping into my head at odd hours about it."
In her spare time Augustine loves volunteer work with her sorority, Phi Mu, and teaching pre-ballet to young dancers. In the next ten years she also hopes to write another book or two. "I wanted to convey a message of good sportsmanship to young readers in Hello, Clawed!, but may consider a book with more of a focus on that in the future," she says. When asked where she sees herself ten years from now, she says: "Ten years from now would mean celebrating my 20th AU Reunion, so I'm sure I'd be in D.C. visiting with my class of 2003 friends!"
Hello, Clawed! can be purchased at HelloClawed.com.