Student Success Story
SPA Student Applies Policy Classwork to Classroom Policy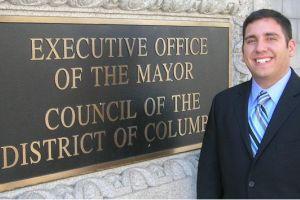 Jesse Rauch was a pre-med student at Boston University when a political science course steered him off the path to medicine and toward his true calling: education policy.

In 2004, he came to DC to teach third grade under the Teach for America program, while getting his master's in teaching from AU. There he got some clarity about what was wrong with the educational system "and got some ideas how to fix it – but being a teacher, I could only help 30 kids a year – I realized this is not what I wanted to do."

As Rauch was concurrently completing a teaching master's at AU, he decided to stay on and pursue a master's in public policy, starting the program in Fall 2006. The transition was easy.

"SPA has great advising – the professors are very accessible and that's crucial. I can talk about what I do day to day with my professors, as colleagues, and I really enjoy that," he said.

Earlier in 2006, Rauch challenged a researcher within the American Federation for Teachers during a debate, impressing the organization so much with his ideas that they approached him afterwards to offer him an internship as a research assistant. Rauch's gift of gab helped him get to his next two positions as well: policy analyst for the DC Board of Education and then, senior policy analyst for the DC City Council's brand-new Office of Policy Analysis. While running for the Advisory Neighborhood Commission in Capitol Hill, Rauch ended up frequently talking shop with a neighbor running for the Board of Education. The neighbor won, taking Rauch with him to the board to work on education policy analysis. When the neighbor moved up to City Council, he again snapped Rauch up as a policy analyst.

Just recently, Rauch became the legislative advisor on education to the Chairman of the DC City Council. Now, more than ever, he is able to put his coursework into action.

"Every evening I have class, I go into work the next day and realize, 'I can apply this!'" he said. "For example, doing a cost-benefit analysis – I didn't know how to evaluate programs in that way – now I can. Sometimes it's basic like how to write a good memo – the format, the argumentation you might need to follow, the policy instruments you might want to propose. I would not be able to analyze a policy if it weren't for being a year and a half through my degree."

After completing the MPP, Rauch will remain in the policy analysis world, staying with the City Council to work on revamping DC's educational system.

"This is my dream job – the job I'm supposed to get after my degree," he said. Rauch can hardly contain his enthusiasm for the opportunity he has to effect great change in improving the outcomes of children and families in DC.