Research Success Story
The Real Impact of Hidden Populations
David Pitts's new research shows how LGBT employment in government agencies can affect delivery of services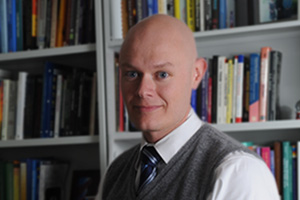 Everyone knows policy is created at top levels but it is often lands unequally. What lies between the law-maker and the citizen is implementation—and the implementers. One group of implementers are government workers who are lesbian, gay, bisexual, or transgender (LGBT) individuals. Can their identity alter how policy changes affect others, particularly others who share their identity?

SPA assistant professor of public administration and policy David Pitts and his co-author Greg Lewis, a professor at Georgia State University, have taken a new sliver of available data and discovered a vast terrain of unexplored dynamic. Their research describes patterns of LGBT employment in government agencies, finding that the prevalence of LGBTs in the public service varies dramatically.

His scholarly peers have taken note: Pitts received the 2009 Robert Bailey Award for the Best Paper in LGBT Politics and the 2006 Leonard White Award for the Best Dissertation in Public Administration, both from the American Political Science Association. Pitts's research, which has also appeared in leading public management and policy journals, helps us understand the composition as well as the power of the government workforce.
Representation is a familiar concept to us as citizens. We elect officials to represent us—and our opinions – in political office. What does representation mean in the context of government workforce?
In this context representation refers to whether government employees "match" citizens on characteristics like race and gender. Even though we don't elect them, these employees have incredible discretion in how they deliver public services, and research shows that they frequently use it in ways that benefit citizens of the same race or gender. There has been very little research on whether LGBT government employees use their discretion to the benefit of LGBT citizens, which is a primary motivation for our research.
What are "hidden populations" and why are they important?
Hidden populations are stigmatized demographic groups that are difficult to identify using traditional survey methods. LGBTs are a good example of a hidden population because many do not openly admit to their sexual orientation, which makes it difficult to estimate the number of people who identify as LGBT. Researchers cannot draw an accurate sample of LGBTs for a survey if they do not have information about their numbers. There was progress on this in 2000, when the U.S. Census modified a question on its long-form survey to permit respondents to identify a member of their household as a same-sex "unmarried partner." Since the long-form survey also includes questions about dozens of important social and economic characteristics, having data from this question permits us to examine how partnered lesbians and gay men differ from respondents with opposite-sex partners. Our sample, in total, was over 2.5 million LGBT and non-LGBT participants.

In size or percentage , how does the general LGBT community compare with LGBT government workers?
My coauthor and I find that lesbian and gay employees appear to account for about 1% of all government workers, compared to roughly 4% of all U.S. citizens. Since these numbers are based on self-reported data, it is possible that our analysis undercounts LGBTs in government, but we do not believe that this sort of bias would explain the entire difference between LGBTs in government and in the population as a whole. There is almost certainly underrepresentation of LGBTs in government – the question is how much, and what are the consequences?
Representation of LGBT community in government jobs is vastly uneven. How does this play out for citizens?
We know that front-line government workers—like teachers, firefighters, social workers—often use their discretion to the benefit of their demographic group. For example, evidence shows that learning outcomes for minority students improve when they are matched with minority teachers. Women seeking child support enforcement recoup more money when they work with female social workers. We anticipate the same type of relationship to take place for LGBTs, particularly in areas like education, law enforcement, and health. If LGBTs are not working as front-line government employees in these areas, then there may be consequences for the quality of services that LGBT citizens receive from government agencies.
It seems like the nature of the government workforce is shifting. The Office of Personnel Management, the government agency for HR matters, is now lead by John Berry, a leading public administrator who is openly gay. Steps are being taken to repeal "Don't Ask, Don't Tell," which would have major consequences for LGBTs serving in the military. What are the implications for LGBTs and others in government?
These shifts go a long way toward creating a culture where LGBT government employees are not afraid of being open about their sexual orientation in the workplace. Berry's appointment at OPM is crucial. He has not shown himself to be an activist for LGBT rights by any means, but the symbolic importance of having an LGBT leader cannot be overestimated. These are great developments from my perspective as a researcher, since they make it more likely that LGBTs will be willing to identify themselves in survey research and provide data about their opinions and experiences.
Were there surprises in your work?
There were unsettling disparities in LGBT representation between different geographic areas. The District of Columbia is at one end of the spectrum: LGBT employees accounted for almost 4% of DC government employees, including 10% of the K-12 teachers in our sample. On the other end were states like North Dakota and Arkansas, where LGBTs comprised only 0.1% of all state and local government employees. There was not a single LGBT teacher in six states, and no LGBT law enforcement officials in seven others. To the extent that LGBT front-line employees can advocate for the needs of LGBT citizens, these geographic disparities suggest that such representation is likely to be very uneven across the United States.
These findings are just one step your longer range research. Sketch out what's ahead.
The next step is to identify specifically how LGBT employees can advocate for the needs of LGBT service recipients in different policy areas. I am examining this in the context of higher education through a series of interviews with students, faculty, and staff who work on LGBT issues. What I am finding so far is that LGBT students appear to place a high degree of importance on working with LGBT faculty and staff, which would suggest that the representational effects that we see for women and people of color are likely to take place for LGBTs as well. I am working on a nationally representative survey of college students on these issues to see if there is confirmation for the relationships I am finding through interviews. It's tough to collect systematic, generalizable data on LGBTs, but I am optimistic that these first steps will provide information that helps us to better understand how sexual orientation affects (or does not affect) public policy.