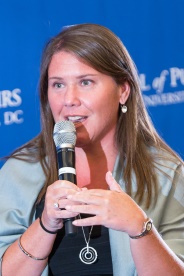 It is impossible to deny the substantial progress women have recently made in government and politics. Over the course of the last 30 years alone, the number of women in Congress has more than tripled. Nancy Pelosi served as the Speaker of the House of Representatives. Secretary of State and former U.S. Senator, Hillary Rodham Clinton, received 18 million votes in her 2008 bid for the presidency. And former Alaska Governor, Sarah Palin, appeared on the national ticket as Republican presidential candidate John McCain's running mate.
Despite these stories of political success, the U.S. still ranks 90th worldwide in the percentage of women serving in the national legislature. When the 113th Congress convened in January 2013, 82 percent of its members were men. Three-quarters of statewide elected officials and state legislators are men. Men occupy the governor's mansion in 44 of the 50 states, and they run City Hall in 87 of the 100 largest cities across the country. Moreover, whereas the 1980s saw a gradual increase in the number of women holding public office and the 1990s experienced relatively dramatic surges, the last several election cycles indicate a plateau at the state legislative level and only marginal increases at the federal level.
Founded in 2000, the Women & Politics Institute strives to close the gender gap in political leadership. We provide young women with academic training that encourages them to become involved in the political process. We facilitate faculty and student research so as to enhance our understanding of the challenges women face in the political arena. We offer the only Graduate and Undergraduate Certificates in Women, Policy, and Political Leadership in the country. And we give women the skills necessary to run for public office, pursue a variety of political careers, and develop their leadership capabilities.
As a leading center for women's political leadership training and scholarly research on women and politics, the Women & Politics Institute is closing the political leadership gap and working to ensure that women's representation continues to increase in all realms of politics. I invite you to learn more about the Women & Politics Institute, and I hope you will join us in making history as more and more women move into positions of political leadership.
Thank you,
Jennifer L. Lawless
Director, Women & Politics Institute
Professor of Government