WeLead, a bipartisan leadership training program run by the Women & Politics Institute, works to increase the number of women working in politics and running for office. Our program graduates are employed in the White House administration, congressional offices, campaign consulting firms, lobbying firms, and non-profit organizations. WeLead empowers young women, ignites their passions and prepares them to succeed in politics and public service.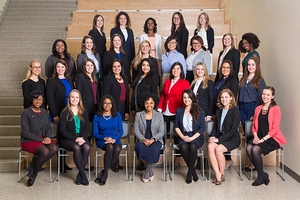 WeLead targets women between the ages of 21 and 29. Workshops focus on campaigns, communications, professional development, fundraising, and public policy. The annual WeLead Kick-Off reception brings WeLeaders face-to-face with women in Congress. Evening events provide WeLeaders with opportunities to network and socialize with each other and with prominent women in politics and public service. The Women & Politics Institute is a non-profit organization and participation in the WeLead program is free of charge for accepted applicants.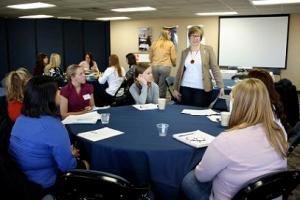 The program is a four-day (two weekends) intensive training that address campaigns and elections, communication and message development, fundraising, public policy and government relations, and professional development. In addition, the program includes an orientation dinner, where participants discuss come face to face with female members of Congress. The program provides participants the opportunity to explore various careers in politics, develop strategies for advancing their political careers, and form relationships for mentoring and networking.
Upcoming WeLead Class
The application period has opened for the 2017-2018 class. Download the application here.
The application must be emailed or postmarked by July 31st.
Incomplete applications will not be accepted. Complete applications include:
Application Cover Sheet (see application)
Resume
Two Letters of Recommendation
Short Answer Questions
$50 Processing Fee