WeLead, a post-graduate non-partisan leadership training program run by the Women & Politics Institute, works to increase the number of women working in politics and running for office. Our program participants are employed in congressional offices, campaign consulting firms, lobbying firms, and non-profit organizations. WeLead empowers young women, ignites their passions and prepares them to succeed in politics and public service.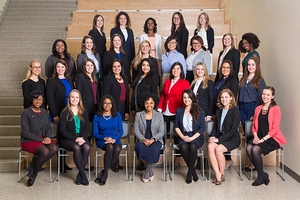 WeLead targets women between the ages of 21 and 30. Workshops focus on campaigns, communications, professional development, fundraising, and public policy. The Women & Politics Institute is a non-profit organization and participation in the WeLead program is free of charge for accepted applicants.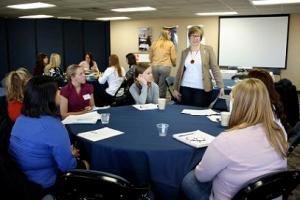 Our monthly workshops focus on campaigns and elections, communications and messaging, government relations, fundraising and development, public policy, and professional development.  These sessions provide young women leaders with opportunities to network and socialize with each other and with prominent women in politics and public service. The program provides participants the opportunity to explore various careers in politics, develop strategies for advancing their political careers, and form relationships for mentoring and networking.
2018-2019 Application Period is Closed
If you would to be considered for the 2019-2020 WeLead Training Class, please email welead@american.edu and you will be notified when the application period is open in May.