Ana Monzon WeLead Class of 2020-2021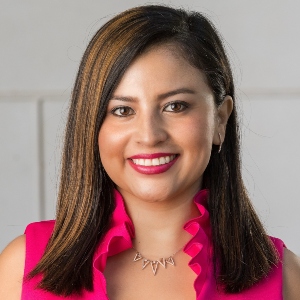 Ana Monzon
Foreign Service Officer, USAID
What was the most valuable thing you learned from WeLead? WeLead taught me that being an effective, transformative woman leader in the policy and political spheres requires humility and learning from other trendsetters who came before you. WeLead taught me that I must remain compassionate, hard-working, and most importantly, authentic to myself and where I come from because this is an ever-changing, challenging field in need of genuine passion and conviction to get things done.
What was your favorite part of the program?
My favorite part of the program was learning the success stories - as well as the trials and tribulations - from so many talented women in political leadership positions. These are women who defied the odds of being 'the first' in politics but persevered and made a tangible difference for the communities they represent and advocate for.
What advice would you give to the current WeLead class?
Take in the wealth of knowledge and remain open to others' viewpoints, even when very different from your own. I believe that a learner who is well-rounded, flexible, and accepting of others makes for a better leader.
How did you secure your current position, and did it include any WeLead networking or alumnae?
During my participation in the transformative WeLead program, I learned of my selection to the Foreign Service for the U.S. Agency for International Development (USAID). While my educational and professional background secured this new opportunity for me, WeLead equipped me with soft and applied skills navigating the nuances of U.S. policy and political scenarios, in my case foreign government scenarios, as a capable and empowered woman leader.
Any other thoughts on your WeLead experience?
The WeLead experience is a place for women from all walks of life to attain an introduction to what women political leaders in the U.S. have faced in their professional trajectories and to learn first-hand from their phenomenal experience. This program additionally supports the development of relevant applied and soft skills. The best part is that you learn all this alongside other diverse and incredibly-talented powerhouses (alumna) who inspire you and never make you feel alone in your own U.S. policy/political journey!
Monzon earned a Bachelor of Arts degree in Political Science from Texas A&M University. She also earned Master of Arts degrees in Public Administration and International Affairs from Syracuse University, along with completing upper-level studies at Sciences-Po in Paris, and Universidade Federal Rural de Pernambuco in Brazil.