Rachel Nitsche Mairella WeLead Class of 2009-2010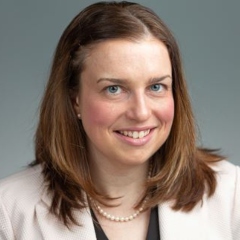 Rachel Nitsche Mairella
Financial Clerk, U.S. Senate Homeland Security & Governmental Affairs Committee
What was the most valuable thing you learned from WeLead?
WeLead truly ingrained in me the importance of networking. Part of WeLead is structured networking sessions, but another very important aspect is the organic networking that happens between WeLead participants and mentors/presenters, as well as among peer participants. As a young professional, having a supportive group of peers in the workforce can be just as important as having mentors.
What was your favorite part of the program?
My favorite part of WeLead was that the program offered expert speakers on various professional development topics, along with a hands-on piece after the panelists' presentations. For example, during my WeLead year, we had mock job interviews, help with our resumes, and professional headshots taken.
What advice would you give to the current WeLead class?
Make the most of your WeLead time by really engaging with, and also keeping in touch with, the experts that the program so generously brings to speak to you, and do the same with your fellow program participants. The ways you can support each other are endless!
How did you secure your current position, and did it include any WeLead networking or alumnae?
A former colleague became my boss and brought me back from a different Senate office. Keeping in touch with your network is one of the most important things any professional can do. Don't hesitate to drop the individuals in your network an email or text every once and awhile, or ask them to grab that ever-important coffee. Although I didn't land my current position directly through my WeLead network, I credit WeLead with playing a big role in helping me to develop the networking and professional skills that it took to get me here.
Any other thoughts on your WeLead experience?
WeLead is a great way to meet women outside of your immediate personal and professional circles. If you are, for any reason, hesitating to apply - take that leap. If selected to participate, you will have one of the most valuable experiences of your professional life.
In multiple roles at the U.S. Senate Committee on Homeland Security and Governmental Affairs, Mairella has managed operating budgets, payroll, compliance, and hearing preparations. She has also worked for Maine Senators Olympia J. Snowe and Susan M. Collins. Mairella earned a Bachelor of Arts degree in Political Science from Providence College in Providence, RI.