Zandria Haines WeLead Class of 2007-2008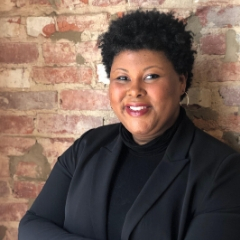 Zandria Haines, Senior Manager, Client Success, Hustle 
Zandria Haines manages the successful training, support and engagement for Hustle political clients.  During the 2018 cycle, her team worked with over 1,300 candidates, 47 state parties, and national political committees as they broke records of response and conversation rates with 200+ million genuine conversations over text.  Previously at Spoken Hub, Hubdialer, and Chism Strategies, Zandria has over a decade of experience in direct voter contact.  A native of Tupelo, MS, Zandria graduated from Millsaps College with a Bachelor of Arts degree in Psychology and is an alumna of the WeLead, Women & Politics Institute at American University.  She lives in Washington, DC with her husband, son, and dog Boomer.

What was the most valuable thing you learned from WeLead?
I was just starting my career in politics when I began the WeLead program in 2007.  I was a young staffer on Capitol Hill and while I loved the experience, I knew it wasn't for me.  WeLead opened my eyes to the many opportunities in politics outside of Capitol Hill that I never would have explored otherwise.  The most valuable takeaway for me was learning about the impact that women, on both sides of the aisle, were having in DC and beyond.  
What was your favorite part of the program?
I loved the professional development series.  None of my work experiences offered that type of educational and individual growth training.  Learning how to build upon my strengths and acknowledge and improve my weaknesses proved to be an invaluable experience for me. 
What advice would you give to the current WeLead class? 
The WeLead community is strong, so don't forget to make the most of it!  Twelve years later, I still keep in touch with our speakers as well as my fellow classmates.  WeLead truly is a program where you create lasting friendships.