4801 Massachusetts Avenue NW
Washington
,
DC
20016
United States
Executive Coaching Modules
Classes meet in-person once a month for two- or three-day blocks, and instruction lasts from 8:30 a.m. – 4:30 p.m.
In addition to 12 full days of in-class instruction, learning is supplemented by weekly telephone conference calls, assigned readings, and journaling. Students begin to practice coaching after the second module, and record their coaching sessions to receive individual feedback from faculty members and accredited coaches to help them improve and further develop their coaching skills.
Learning Objective: Participants explore foundational coaching concepts and their relationship to adult learning theory.
Topics Covered:
PIB coaching model and adult learning perspective
What is coaching?
Stages of Learning – Gordon Model
Active listening skills
Powerful questioning
Coaching presence
Learning Objective: Participants discover how to be fully present, build trust, and establish authenticity with clients
Topics Covered:
Values-based coaching
Mental models
Perspectives coaching
Establishing trust and intimacy
Technical problems vs adaptive challenges
Establishing the coaching relationship
Learning Objective: Participants learn how to use language and emotions to create purposeful conversations with clients
Topics Covered:
Ladder of Inference
Designing actions
Planning and goal-setting
Coaching communication skills
Coaching emotions
Managing progress and accountability
Learning Objective: Participants learn to apply their newfound coaching skills in support of the client's change journey and goals.
Topics Covered
Change and personal change journey
Use of assessments in coaching
High-performing teams
Reflective observer
Learning Objective: Participants discuss the business of coaching and develop their own personal coaching brand.
Topics Covered
Coaching in organizations
Coaching using 360 feedback
The economics and business of coaching
Internal vs external coaching
Completing the coaching relationship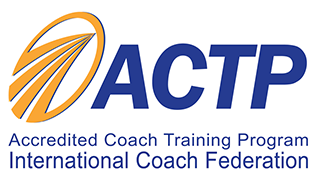 The International Coaching Federation (ICF) is the largest accrediting body for institutional executive coaching programs. They require Coach Training Programs to go through a rigorous application and accreditation process, resulting in programs that are recognized throughout both the coaching industry and by those who hire coaches.