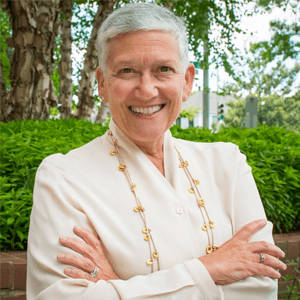 Jill Klein

Executive in Residence Info Technology & Analytics
Additional Positions at AU

Executive in Residence, Information Technology & Analytics

Degrees

Bachelors, Economics/History, Cornell University; Masters in Business Administration, Finance, American University

Favorite Spot on Campus

Benches on Quad- enjoying lunch on a sunny day

Bio

In June 2018, Professor Klein was appointed Interim Dean of the School of Professional & Extended Studies, where she will continue the legacy of delivering cutting-edge, expert-driven higher education programs to nontraditional and lifelong learners - both online and on campus.

A recovering CIO with industry experience in banking and consulting, Jill discovered a whole new passion after transitioning to a career in academia in 2002 when she joined the Kogod School of Business faculty as an Executive in Residence in Information Technology and Analytics. Professor Klein teaches a wide range of courses for graduate and undergraduate students and especially enjoys the challenges of teaching a Complex Problems course on Digital Citizenship. In 2015, Professor Klein was appointed Kogod's Digital Dean and managed the launch of Business@American, Kogod's online MBA and MS in Analytics, with DC area 2U Inc. as the University's "ed tech" partner. In 2017 she was appointed as the Interim Associate Dean for the School of Professional and Extended Studies where she was responsible for six online professional management degrees and the development of non-credit programs for the University. During this time, she also served as Interim Executive Director for the Center for Teaching, Research and Learning (CTRL) a university –wide destination for faculty to share insights on leading topics related to teaching and research.

Professor Klein especially values her work advocating for gender-diverse corporate boards. Since its inception in 2010, the Women in Technology's efforts has been guided by Jill, along with The Leadership Foundry's Advancing Women to the Corporate Boardroom annual study. She also serves as an advisor on The Leadership Foundry curriculum, serves as the DC Co-Chair of 2020 Women on Boards and is a member of Leadership Greater Washington . Jill's prior employers include JP Morgan, Riggs Bank, IBM, The Advisory Board and her own IT consulting firm. Jill earned a BA from Cornell University and an MBA from American University and serves as a Trustee at Pitzer College.
Fall 2021
CORE-107 Complex Problems Seminar: Living As a Digital Citizen

ITEC-200 Edge of Information Technology
Partnerships & Affiliations
Scholarly, Creative & Professional Activities
Executive Experience
CIO, Riggs National Bank, NA Client Executive, IBM Corporation Managing Director, The Advisory Board Company
Area of Expertise
Information technology, information systems, e-business, emerging information technologies, women and leadership, women in technology
Additional Information
Jill Klein teaches graduate and undergraduate courses in the management of information systems, impact of emerging information technology, business analysis, and project management. She serves as the faculty advisor to Kogod's American Information Society and the Kogod Women in Business.  She cochairs the Information Technology Executive Council (ITEC), which consists of 20 industry executives who advise on curriculum, career awareness, and faculty research. During the past 25 years, Klein has led IT organizations and influenced major business decisions through the design and implementation of information technology. In the early 1990s Klein, then CIO at Riggs Bank, implemented an outsourcing relationship with IBM that established many of the strategic outsourcing standards adopted in transactions during the past decade. Klein's diverse career includes for-profit research, business consulting, IT sales, and entrepreneurship. Klein is an active member of the Society for Information Management (SIM), a national and regional professional organization fostering a management exchange among IT corporate, government, academic leaders, and Women In Technology, where Klein serves on the Leadership Foundry and works with the Young Professional Special Interest Group. Klein also serves on the board of directors for the Data Interchange Standards Association (DISA), an association dedicated to developing cross-industry standards for electronic data interchange. Klein's professional affiliations keep her close to leading-edge e-business events.