Questions?

Contact:
Professor Iris Krasnow
Program Director
iris@american.edu
410-533-0859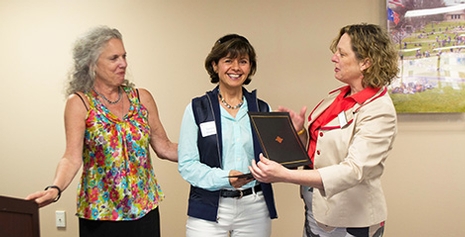 This course on Women and Leadership will help women to lead more thoughtfully and effectively wherever they find an opportunity for leadership: in the workplace, in membership organizations, or in personal relationships.
Women and Leadership will help participants to better understand the distinct challenges and opportunities women face when assuming a leadership role. Using contemporary and historical studies, as well as presentations by dynamic executive women, Women and Leadership examines stereotypes regarding masculine and feminine approaches to leadership. The course highlights common trends affecting leadership opportunities for women. Guest speakers will provide both real world perspectives and proven strategies for woman-as-leader forged within a variety of environments.
By completing Women and Leadership, participants will command a range of strategies and tactics to realize their leadership potential. Students will leave the course with a range of options for confidently choosing and effectively applying leadership strategies that are personally appropriate  in both professional and personal goals. 
For schedule and location, click here.