American University Launches Career Directions Program for Online Graduate Students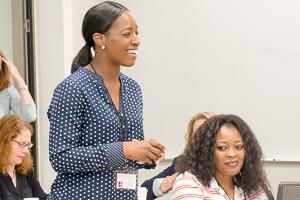 At the School of Professional & Extended Studies, we do things a little differently. Our students not only learn and collaborate in the classroom, they pivot into new industries and create innovative capstone projects that inform field experts. They don't stay in one place; instead, they consider Washington DC their learning laboratory. Now, our graduate students have the unique opportunity to develop their professional careers in lock-step with their academic curriculum.
This Fall, the School has launched its first-ever Graduate Professional Studies (GPS) Career Directions Program. Whether students have a clear career plan, or are in the beginning stages of exploration, this three-stage program allows students to attend a special Career Decision-making Seminar, several online career development workshops and in-person, one-on-one career coaching sessions with individuals from our Leadership Coaching for Organizational Performance (LCOP) program.
Dr. Robert Stokes, Program Director of the Human Resource Analytics and Management program at American University has held a number of career counseling positions at both Indiana University and the University of Maine. He has also served as Director of the Career Development Center at Villanova University. As overseer of this inaugural program, he notes:
"People make four to seven career changes in their lifetime. Whether students are considering a career change or not, Career Directions is designed to help them consider their personal brand, possible career options, and a strategy to explore these options. The program will also help professionals at every stage of their career consider their goals and how to make effective career decisions. These workshops as well as the individual coaching is a great exploration program."
Eligible SPExS online graduate students can register for the Career Decision Making seminar by Thursday, September 20th. For questions, students can contact Lauren Meier at lcopley@american.edu.