Education
The American University Gap Program: A Launchpad for College and Lifelong Success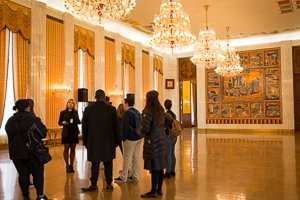 The option to take a gap year or a gap semester has become increasingly more appealing to high schoolers and their families. Take 17-year-old Parkland shooting survivor and March for our Lives activist David Hogg for example. Or, Malia Obama just one year ago. Now, more than ever, students are looking for opportunities to jump ahead of the curve and invest in a long-term journey of personal and professional growth.
As one Washington Post article describes, taking a Gap Year is "an investment in the whole person" -- an important pre-college bridge that "allows kids to develop the maturity, independence, and self-reliance necessary to make the most of a college education."
The American University GAP program is centered on this very notion. It provides students with semester- or year-long options to intern in DC while taking intensive seminar classes in American Politics, International Affairs, or Global Business. With its one-on-one internship coaching and its expert university staff offering support along the way, students experience the intimacy of a small private research university while receiving crucial professional skill sets that they will carry with them throughout their lives. By design, the AU Gap Program allows young students to gain professional experience and live in a unique environment within a schedule that traditional university settings would not normally allow.
Studies show that the benefits of one semester or one year outside of a traditional academic track are both intersectional and lifelong. According to studies curated by the Gap Year Association, 88% of participants report that their GAP program had significantly added to their employability after college. And according to a study on "The Characteristics of Gap Year Students and their Tertiary Academic Outcomes," Gap Year students are perceived to be 'more mature, more self-reliant and independent' than non-gap year students.