Alumni
Becoming Lucius25:
What to Know Before Attending our Crucial Conversations Event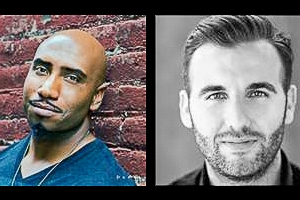 On the heels of a viral Washington Post article of one man's undercover journey as a "digital White Supremacist," the American University community will have the unique opportunity to hear from Theo Wilson - the award-winning spoken word artist who adopted the online alias 'Lucius25' to go undercover - and Peter Holley, the Washington Post reporter who wrote about the experience.
In collaboration with the School of Professional & Extended Studies on the evening of November 15th, they will discuss the dynamic intersections of race and politics in the internet age, touching on the importance of conversation and community dialogue. In the meantime, both Wilson and Holley have much to say about the experiential learning behind this undercover journey.
"Most people, I think, consider the alt-right in terms of these flimsy, easily despised, caricatures. If we want to rebut their ideas, I would argue, it's worth understanding the people behind them," explains Technology Reporter Peter Holley. "I hope the audience leaves with a more comprehensive picture of the alt-right and the forces fueling their ideas."
Theo Wilson builds off of this concept, adding:
"I hope the audience gets a deeper historical understanding of present-day race, power, and politics."
Wilson goes on to say that the Washington Post article's debut has created a lightning-fast expansion of his visibility as a writer, public speaker, and overall thought leader on these topics. Indeed, this experience has enhanced the way both individuals approach their different careers. In Wilson's case, it has honed and sharpened his storytelling faculties - thereby affirming to him the importance of the kind of work he does.
The School of Professional & Extended Studies is no stranger to the benefits of on-the-ground learning. From its practical, work-based learning opportunities is a thriving collection of partnerships with more than 3,000 employers, over 150 global academic institutions, and an alumni community of over 40,000 strong. And in all aspects of this dynamic community, there exists an important pillar of diversity and inclusion in the context of today's world.
AU alumnus Peter Holley, too, sees the importance of access and inclusion in his career and in the lives of those he writes about:
"A newspaper's value is predicated on reporter's ability to find and tell stories," he says. "But reporters are best able to find stories when they understand the people and communities they're writing about. That's one of the strongest arguments for an inclusive workplace, especially when debates about gender and race are at the forefront of so many national issues. Our strength - our very currency - lies in our diversity and inclusiveness."
The dynamic intersection race and politics today is, arguably, more powerfully addressed through real-world learning. It's one thing to read about diversity and inclusion in a book; it's another thing to come face-to-face with figures who are leading these important conversations. Students at the School of Professional & Extended Studies do this through multiple professional programs, with the backdrop of DC as its learning laboratory. In less than one week, the School joins the greater American University community in opening the floor for Wilson and Holley to share their insights as part of an ongoing "Crucial Conversation" event series campus-wide.
"To prepare [for this conversation], I'd urge people to come with an open mind, a willingness to listen and suggestions about how to move the conversation surrounding race forward in a substantive fashion," says Holley.
Wilson adds to this, saying he hopes that November 15th attendees will "feel empowered by what's happening, and [will acquire] the tools to make change in their immediate environment."
The School proudly joins the American University community in championing conversations that lead to the understanding of a diverse communities and stories.
--
To RSVP to this event, visit: http://www.american.edu/spexs/events/becoming-lucius25.cfm
Whether it be through its accredited degrees and certificates for working professionals or through its mentorship and internship programs for high school and undergraduates and postgraduates, the School of Professional & Extended Studies (SPExS) provides world-class experiential learning for individuals across all stages of their career. Learn more about how the programs at SPExS can help students enhance practical skillsets at critical junctures in their careers at http://www.american.edu/spexs/.