Alumni
Capitol Hill Always the Goal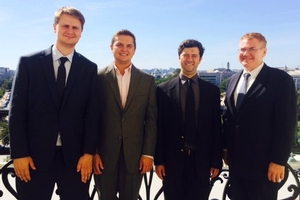 Frederic Sottnick chose to participate in the Graduate Professional Studies (GPS) program because he wanted to be at the epicenter of politics. Since high school, Sottnick had dreamed about coming to DC and working in politics. After gaining a bachelor's in political science from Wesley College, he decided it was time to venture to the nation's capital and experience Washington as a young professional. 
"If someone is interested in moving to DC, joining government, or diving into politics I suggest they participate in this program," said Sottnick. "If I did not participate in this program, I would not be where I am today!"
While in GPS, Sottnick interned for the House of Representatives for his home district congressman. He was elated to have the opportunity to give back to the people of southern New Jersey. The program also helped prepare him for his subsequent internships and jobs at the Department of Homeland Security, Deloitte, and now on Capitol Hill.
"I am currently working for a Congressman," Scottnick said. "Why? Because it was what I came here to do! I told myself I was going to get a job on Capitol Hill and did it!"
In addition to working on Capitol Hill, Scottnick is also in the Masters of Public Administration program at American University's School of Public Affairs. He wants to continue to develop his managerial skills and enhance his academic experience.
Sottnick still keeps in contact with his professor from GPS, Professor Mike Russell, whose guidance and support helped Sottnick understand Washington. Sottnick still communicates with him on a monthly basis for advisement. The Graduate Professional Studies program helped Sottnick reach his dream of working on Capitol Hill, and is still helping him as he continues to move forward in his career.