New Professional Skills Programs at American University Offer Digital Badges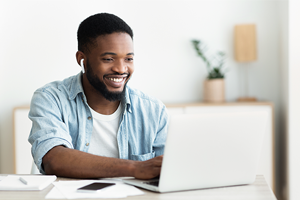 American University (AU) is pleased to announce the launch of a new digital badge program for lifelong learners who are at any stage of their careers. In the program's 4-week training courses, enrollees earn valuable skills which can be utilized immediately in their workplaces; courses may also be taken as a series for enrollees interested in deepening their knowledge and comprehension of a particular area of study.
Offered through the School of Professional & Extended Studies (SPExS), these professor-led, hybrid modality training courses begin in June 2020. Once a student completes the course work in each class, a digital badge representing a level of accomplishment is awarded. Each digital badge follows a track, which students adhere to, that can culminate in the highest level, the mastery badge.
Growing in popularity, digital badges are deemed as not only symbolic indicators of accomplishments or skills, but as viable presentation items as resumes are increasingly reflected on social platforms and websites.
Also referred to as "skills currency," digital badges add immediate value to employment profiles. Badges can be displayed, accessed, and verified in the virtual marketplace. Digital badge earners feature their badges online, where they publicly highlight earners' skill sets. By efficiently validating skills, the badges can obviate the need for lengthy assessment by potential employers and others.
Associate Dean Sam Hanna, of SPExS' Graduate Professional Studies arm, says, "skills-based programs are a way to strengthen someone's qualifications and add rigor to existing degrees and experiences. Hiring managers are increasingly looking for key skills and are evaluating candidates based on specific outcome. A digital badge offered by American University engenders credibility and notoriety to skills acquired by the students and an easy and direct way for employers to see what skills and credentials the learner has acquired and mastered."
The program also provides educational benefits for students seeking to condense academic pursuits. Students may be interested in learning a portion of a larger curriculum. The digital badge serves this population, allowing them to curate their skills.
Utilizing a tri-level structure, the program's course offerings afford students explorer, quest, or mastery digital badges. Explorer badges are earned following the completion of a single course. Quest badges are earned after completing several courses in a track. Mastery badges are earned upon the completion of all the courses within a curriculum track.
SPExS Interim Dean Jill Klein explains that the digital badge offering continues the school's legacy of creating academic, experiential, continuing education, and career enhancement programs in line with the school's commitment to lifelong learning.  "Lifelong learners demonstrate their commitment and achievement to advancing their workplace skills through earning digital badges.  American University seeks to meet students at all phases of their career and extending our program offerings beyond traditional degree programs reflecting the rapidly evolving 21st century workplace expectations."
These online courses begin June 29th. The current selections include human resource management, sports management, evaluation, and instructional design. Visit www.american.edu/spexs for more details or to enroll.