Alumni
The Reputation Researcher GPS Student Samy Ahmed Learns the Art of Crisis Communication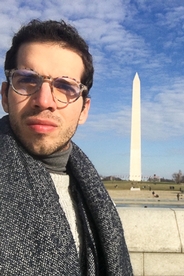 Have you ever stopped and asked yourself how it is that some of the most public-facing people in the world manage to maintain such spotless, sterling images? If so, it might not surprise you to know that these people have teams of highly trained professionals doing constant research on how best to respond to any number of situations in the public eye. That's where Samy Ahmed comes in.
As a Graduate Professional Studies Program student, Ahmed interns at CommCore, a specialty public relations firm concentrating on crisis management, as a Crisis Communication and Public Relations intern.
"I mainly do research for clients. Crisis stuff," Ahmed shares nonchalantly. "It's a really interesting job [because] you get a lot of different insights from a lot of different industries. Our client portfolio is huge, from national agencies to health companies. I have the chance to see many different sectors. And since I'm a very flexible person, it's perfect."
What's the first step in responding to a public relations crisis?
"Try to understand the situation, their problem, and how one can solve it," Ahmed explains. "[At my internship,] I do all the necessary research about the client, trying to see if they've experienced anything similar in the past, and how they might've solved it. I also research the backgrounds of a lot of the top management in order to try to give them [further] support."
In addition to his internship, Ahmed is participating in the Diplomacy, Defense, and Development seminar with School of Professional & Extended Studies professor Jack Zetkulic. Professor Zetkulic's "DDD" class focuses on the theory and practice of foreign affairs, especially as they relate to careers in the international sphere. Zetkulic himself has had a long career of working at the State Department and in many different countries and crisis scenarios. In addition to lectures and class discussions in the course, students develop skills to use in these high-pressure career fields including coursework on cross-cultural negotiations, program monitoring and evaluation, international conflict scenarios, and approaches to threat and security.
It's clear that Ahmed has been studying corporate management, and more broadly, human reactions to crisis, for years. Before American University, Ahmed studied economics and management at Bocconi University, an internationally renowned business school in Milan, Italy, where he is originally from. In addition, he has had internship experience in management and diplomacy in several countries. But it was, at least in part, the allure of Washington D.C. that drew him to the program at AU. His grin grows wide when asked about the best parts of his position at CommCore, and he can't help but gush.
"It's still so amazing to me that I work in the city-center, right next to the White House. This city just has some kind of magic. All the museums are free, all the networking, all the conferences...everything is happening here."
When looking toward the future, Ahmed is clear about what his number one goal is:
"I just wish I could be here forever!" Currently, Ahmed is weighing graduate school offers to get his masters in Global Commerce following his Graduate Professional Studies semester at AU. But what else might've drawn him from a prestigious management program in his home country of Italy? The answer might not be what you expect.
"Love, actually!" Ahmed chuckles. "My girlfriend was studying here, so I [sought out] a chance to get to the United States. When I found this program online, I realized what an incredible opportunity it was to be able to work and study at the same time in Washington D.C. That really is the American University philosophy, though. They want to give you those opportunities. It's really an excellent university.
--
Whether it be through its accredited certificates for working professionals or through its mentorship and internship programs for undergraduates, the School of Professional & Extended Studies (SPExS) provides world-class experiential learning for individuals across all stages of their career. To learn more about how alumni of the School of Professional & Extended Studies are empowering changemakers throughout Washington DC and beyond, visit www.american.edu/spexs/news