Alumni
Graduate Program Helps Students Transition into Career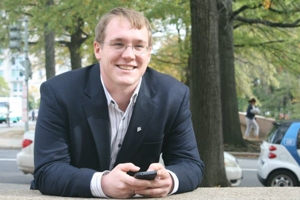 The time before college graduation can be stressful for many students. Uncertainty about the future, what to do next, and where to go became important questions that need answers --- fast. Many students have turned to the School of Professional & Extended Studies (SPExS) Graduate Professional Studies program.
 "I found the program to be exactly what I had been looking for post-graduation," said Allan Saunders, a Fall 2014 participant in the program. "For me, the [GPS] was an obvious choice as it allowed me to have a taste of both the academic and professional future following graduation. At that time, I wasn't sure which route I would take. While graduate school called to me in many ways, I also had a profound desire to get started in my professional life."
Saunders graduated from American University in Spring 2014 with a dual degree in International Relations and Psychology. After graduation, he was not sure which career path to pursue between his two passions during undergrad. The program, which offers potential graduate students an introduction to graduate study without a long-term commitment, provided him enough experience to be prepared to commit to an advanced degree program. 
Saunders especially benefitted from the required professional experience credit within the program. He interned 35 hours a week at the American Foreign Service Association (AFSA), the professional association and union for the men and women with careers in U.S. foreign service. During his time there he got a "crash course" in the unique Washington business and government world through involvement in non-profit issues like fundraising and educational outreach, business-related activities like contract negotiations and billing, and other professional association matters. 
"Down the line, my internship became a part-time job and, eventually, AFSA became my full-time employer where I continue to work today," Saunders said. 
He now works as the Outreach and Communications Specialist at AFSA and is also pursuing a master's in Global Governance, Politics, and Security through American University's School of International Service. Saunders noted that GPS helped prepare him for the rigor of balancing graduate school and a career 
"[The program] taught me, more than anything else, that a door that seems closed might not be locked. I would certainly recommend it for anyone who stands at the crossroads of opportunity after graduation and is struggling to choose amongst the sea of possibilities ahead. For me it was like being handed a roadmap after spending months lost on the road to adulthood."