Alumni
Find Love in a Not-So-Hopeless Place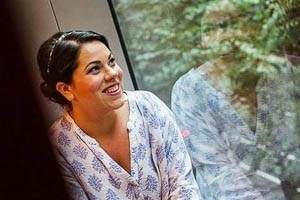 Emily Roseman Tillet expected to have a thrilling experience in the Washington Mentorship Program at American University. She was given a rewarding educational experience, a head start by interning immediately after she arrived on campus, and she found a husband.
"The program helped me in more ways than I can list," said Emily. "I met my wonderful husband (a fellow WMP student) the first week of the program."
Tillet attended the Washington Mentorship Program in the fall semester of 2008. She applied to American University and was instantly intrigued by the program during an on-campus visit. She decided to participate in the program because it offered an advantage that typical freshman do not receive. While in the program, Tillet was able to explore the city, discover more about her field of interest and make life-long friendship.
"I learned that no college experience is the same. Your path to education and success can start at different times and in different ways," said Emily. "What I would tell a prospective student is that if you are looking for something more, something truly rewarding in a college experience, please consider the mentorship program."
Tillet credits the Mentorship Program for giving her a leg up in her career. During the program she was the Assignment Desk Intern at BBC News, giving her the opportunity to begin her professional career early and providing her a unique edge in the broadcast media industry.
After holding several positions at major news organizations, Tillet is back in DC as a producer for the Associate Press. Every day on the job is a new experience, from tackling breaking news to covering politics and the election.
"I truly love this city, and it's where me and my husband call home after our time at AU," she said. "I value the education, the experience, and the rewarding memories that I cherish every day from my time at WMP."