In the Community
Here are our Top Stories of 2018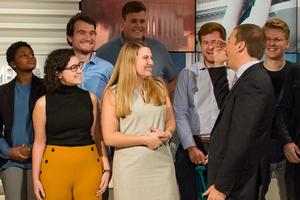 This year at the School of Professional & Extended Studies, our students and alumni truly demonstrated what it means to have excellence from ages 17 to 70. Across our five undergraduate and graduate-level internship programs, students spent a total of 93,888 hours interning at congressional offices, NGOs, think tanks, nonprofits and other influential organizations across the Washington DC area.
2018 was also the year that our honorary alumni chair, Donna Shalala, was elected to Congress alongside 100+ women across the United States. Sonita Alizadeh, an English Language & Training Academy student, gained worldwide notoriety as a recipient of MTV's first-ever Global Changemaker Award. And, if that wasn't all, our students reported on the Kavanaugh hearings, wrote articles in professional publications about being first-time voters, and one even had the chance to interview Snoop Dog's publicist.
2018 also marks our inaugural graduating class of online master's degree students. In just a couple of weeks, grad students of our Human Resources & Analytics, Sports Analytics & Management, and Healthcare Management programs will walk across the stage with fellow AU graduates at the College of Arts and Sciences.
We are proud of our students and our audience of readers who followed along. Need to catch up? Here are our 10 most-read articles of the year.
2018 was a bold year for women. From the halls of politics to the big screen, to the board rooms, courtrooms, newsrooms, and prominent organizations across the country - women called attention to abuses of power, diversified narratives, and occupied interdisciplinary leadership positions to stir meaningful change.
Here at American University, we too had our movement. For the first time in its 125 year history, our institution inaugurated its first woman president, Sylvia Burwell, a former President Obama cabinet member. In response, SPExS celebrated the achievements and milestones made by our own female trailblazers. Read more on the eight women at SPExS and AU who are making a difference in their communities today.
We take pride in the fact that our program offerings nurture students from ages 17 to 70 (and then some). Among our hybrid academic programs is our leadership coaching course for those seeking to deepen their skills or pivot into a different field. One part online and another part in person, the Executive Coaching program is designed to meet the needs of mid-career professionals who want to keep their day jobs while leveling up in their careers.