Alumni
Here are our Top 10 News Stories of 2017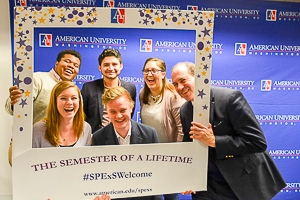 It was a year of milestones at the School of Professional & Extended Studies. Among many things, 2017 marked the 70th anniversary of the flagship Washington Semester Program, and it also marked the launch of our two scholarship funds -- the David C. Brown Scholarship Fund and the School of Professional & Extended Studies Dean's Fund to support students from underserved communities. It was our first full year of operation of our mid-career graduate degrees, certificates, and executive education offerings, which include six multi-disciplinary Masters' of Arts degrees and graduate certificates in applied fields as well as certification classes in leadership coaching for organizational performance and human resources.
Our students made it to Forbes 30 under 30, signed book deals, and shared their expertise. Better yet, our readers followed along with us all year long, and responded warmly to our most important stories to date. Need to catch up? Here are our 10 most-read articles of the year.
In hosting our 9th annual Professional Development Day Conference in June, we offered our students a variety of workshops, trainings, and info sessions to sharpen crucial skills in today's competitive job market. David Fletcher from the School of Professional and Extended Studies, and Christine Steiner, the SPExS' Assistant Director of Outreach for Graduate Professional Online Learning, sat down with us to discuss some of the most important skills students should have when entering the workforce.
Frederick Scottnick attended the Graduate Professional Studies Program in 2017 through Professor Mike Russell's U.S Politics and Policy seminar. He has a few things to say about how much he loved his experience interning on the Hill!
A recent study by The Bloomberg Journal professes that the most highly sought-after skills are also the hardest to find. These include communication skills, leadership skills, and creative problem solving. SPExS adjunct instructor Adam Sharon talked with us about the value of his political communications class and how "the ability to communicate your priorities, your interests, your message...cuts across every field." Read the advice he gave our students this year.
Step into the shoes of Washington Semester Program alumnus Sebastian Urthaler, who interned at an institution considered by many to be site of their dream job!
Learn more about how this Representative from Wisconsin has become the second Washington Semester alum to serve on a national ticket.
Wolf Weimer knew that he wanted to study abroad during his time at Zeppelin University in Germany, and he knew that DC would be an ideal place to gain experience. Little did he know that the same Washington Semester Program that his father attended 30 years previous was the very program he sought out.
This year, the School has initiated a milestone partnership agreement with the Society for Human Resource Management (SHRM) to offer two expert-driven online professional certificate courses. Learn all about it!
University of Arizona grad Maya Peebles helped lobby the Forever GI Bill with Student Veterans for America this summer. Read all about how she helped make it happen!
Before Dr. Achim Schmillen became an economist at the World Bank, he was an international student participating in the Washington Semester Program at AU. Now, he has golden advice for those looking to make a positive impact in the realm of international development.
Gil Ruiz began making his mark in Washington as an intern for AARP. Now, as a Legislative Correspondent for Senator Kirsten Gillibrand, he has a few ideas on how students can prepare themselves for success in the realms of environmental advocacy, political lobbying, and more.
As we close out 2017, we at the School of Professional & Extended Studies extend our gratitude to the students within our community. We invite you to stay in touch with the latest SPExS news by signing up for our newsletter!