Alumni
Recent Alum Gives High Praises to Washington Mentorship Program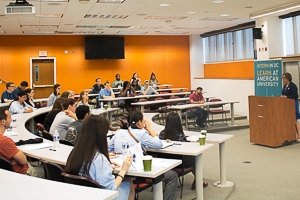 "The Washington Mentorship Program honestly taught me so much, it's hard to list everything."
Like most students, when William Jessup first arrived at American University he did not know what he wanted to study. Unlike many others entering college for the first time, however, Jessup had gained internship experience, professional development skills, and a professional network which instantly set him apart from his classmates. As a part of the Washington Mentorship Program (WMP), Jessup was able to realize an pursue his passion for wildlife conservation efforts.
William Jessup first heard about the WMP through the AU mailing list. In the 2014 fall semester he began the program in hopes of promptly gaining meaningful professional experience. Jessup solidified an internship with City Wildlife where he gained firsthand experience.
"The idea of getting experience in the Biology field right of the bat was very appealing to me," he remembered. "My internship connected me to other biologists and environmental scientists around the DMV area so I was able to do different projects with the DC Department of the Environment and DC Animal Control."
Now a Biology major with pre-veterinary focus, Jessup credits the program with helping him narrow his interests. This past summer he spent two months in the Maldives and South Africa where he worked on a variety of wildlife conservation projects. Jessup had the experience of a lifetime working on the preservation of marine ecosystems, the rehabilitation of baby sea turtles, and interacting with lions, tigers, elephants, and zebras. His experiences in this field all began with his first internship through the Washington Mentorship Program.
The professors who helped him realize his passions also strongly emphasized the importance of professional development.
"Not only did they help me find my passion, but the program also gave me professional confidence," admitted Jessup. "The classes were also helpful when it came to preparation for both college life and professional life. We practiced essential skills like resume building, interviewing, and presenting, skills that many other students don't learn until their senior year at the university."
William Jessup highly recommends the program to other students for its academic and professional benefits. He feels the program gave him confidence in his abilities through the intensive resume, networking and interview skills training. Now serving as an ambassador for the Washington Mentorship Program, Jessup truly believes that the program gives students academic and professional advantages over their peers.
--
Whether it be through its accredited certificates for working professionals or through its mentorship and internship programs for undergraduates, the School of Professional & Extended Studies (SPExS) provides world-class experiential learning for individuals across all stages of their career. To learn more about how the programs at SPExS can help students enhance practical skillsets at critical junctures in their careers, visit our website at http://www.american.edu/spexs/.