Alumni
Women to Watch With the Inauguration of American University's first female President, we celebrate eight incredible women who have made their mark at SPExS and beyond.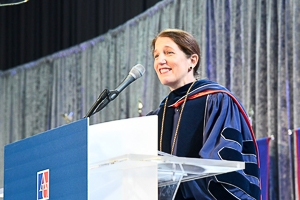 Amelia Earhart. Florence Nightingale. Mazie Hirono. Do these names sound familiar? These women are just some among hundreds of trailblazers across history who broke ground in their careers, paving the way for other women for the first time.
Right here, at American University, we too have made history. Today marks the inauguration of Sylvia Burwell, the first female president since the institution's founding 125 years ago. Far before her tenure at this institution, Burwell has had a glowing track record of excellence at the Obama White House, the Bill and Melinda Gates Foundation, the National Economic Council and other powerful seats throughout Washington.
In a similar tune, we at the School of Professional & Extended Studies join Ms. Burwell and the University at large in our pride for the accomplishments of our female alumni and faculty. In the spirit of those who have come before us to forge enriching pathways, here are eight women from our School who embody today's historic moment:
Dr. Carola Weil - Founding Dean of the School of Professional & Extended Studies
When Dr. Weil first arrived as the head of American University's newest School, her mission was rooted in what the future held for higher education and for professionals looking for advancement in their careers. From the get go, Dr. Weil had innovation and achievement in mind. In an American Magazine article highlighting her appointment at AU in 2012, she remarks:
"Higher education must reach out to new audiences and embrace innovative learning and teaching methods that are relevant to practitioners but also uphold tried and true principles of intellectual rigor."
Indeed, the School of Professional and Extended Studies has always embraced the means by which students and professionals can adopt crucial skill sets in today's evolving workforce. As Dr. Weil leaves the institution in June for an appointment as Dean of the School of Continuing Studies at McGill University in Montreal, her legacy here at AU will live on.
America Ferrera - First Latina woman to receive the Primetime Emmy Award for Outstanding Lead Actress in a Comedy Series
In Washington DC's world of politics, it's unique to come across a professional who has chosen another path to success. For many, America Ferrera is known by her hit role as the lead in Ugly Betty, her brief stint with Disney Channel, or by her ongoing political activism with #MeToo, the Women's March and, most recently, the Times Up legal defense fund. As with all things, there is a humble beginning. In 2004, a young America Ferrera attended the Washington Semester Program under the Peace & Conflict Resolution concentration. Throughout her career and in every sector where her talents have been used, representation and equity have been her top priority.
In a rousing speech in last year's Human Rights Campaign - LA Gala Dinner, Ferrera remarks,
"We know that representation matters. We know this. Not just in the media but in our schools, in our hospitals, in our boardrooms, in our halls of power ― we know that it makes all the difference to see ourselves reflected by culture, with dignity, with humor, with compassion."
And, like President Burwell whose mission is to leave the door open for future generations, Ferrera ended her speech with an inspiring call-to-action:
"We can leave the next generation with a better reflection of their innate worth and their inherent power simply by claiming and living in our own power."
Erin Ross - Senior Managing Director at City Year Los Angeles, Founder of United Leaders
Even before participating in the Washington Semester Program, Erin Ross was a born leader. Then a young undergraduate student from Tufts University, she had already formed the backbone of what later became United Leaders, a fellowship program that ran for 5 years to empower young people to intern at Boston- and DC-based community organizations and government offices. The idea was to find young people who cared deeply about their community and saw that politics was a viable vehicle to make a change.
After the close of United Leaders in 2005, Ross moved on to become one of the founding employees of City Year - Los Angeles. Four million dollars raised, 75 people recruited, and a brand-new board and infrastructure in play after just one year, their Los Angeles branch quickly became the company's largest under Ross' leadership. "[The founding startup director] and I literally started City Year LA in a coffee shop," she notes, laughing. That year, they met 400 people, forging partnerships and building bridges with the LA Unified School District.
Growth aside, what drives Ross most is the opportunity City Year provides communities in need:
"Kids who grow up in poverty experience an unbelievable amount of trauma every day. Schools still operate like they did 100 years ago. That's where City Year comes in," she explains. "[We deploy] a team of peers into a school, thereby adding more adults to provide the kinds of intensive support that some schools simply aren't equipped or resourced to do. Because these Americorps members [tend to be] from the same communities, or from a similar background as our students, they are able to convey such a different experience."
City Year Los Angeles was established by two women, and Ross is aware of the power that this holds for herself and the generations after her. When asked about the importance of AU's new President taking office, she notes:
"When I was very young, I wanted to be president of the United States. That was often laughable, [which] speaks to the fact that there was such a lack of role models in these seats of power. In academia, in politics, in entertainment, there is such a need for representation, because I think women historically also bring other women along."
Margery Kraus - Founder and Executive Officer of the first women-owned global strategic communication firm, APCO Worldwide
Margery Kraus is not only a part of the AU community as an American University Trustee and alumni of the School of Public Affairs, but she is also a known trailblazer in the world of public relations, public administration, and business diplomacy. She credits her experience with the Washington Semester Program (WSP) as one that gave her the necessary foothold to thrive in the nation's capital and in her highly-decorated career. As a founder and chief executive officer of arguably the only women-lead international global consulting firm, APCO Worldwide, Margery Kraus has been a true trailblazer -- oftentimes thriving in spaces where she has stood alone or among few other women in her profession.
Thessali Teague - State Representative at the Oklahoma House of Representatives
Just six years ago, Oklahoma State Delegate Thessali Teague was a student at the Graduate Professional Studies program (formerly known as the Graduate Gateway Program) studying International Affairs. One aspect she noted as the best part of the program was how she was "usually the only one with my opinion. As one of the only Republicans in my class [at the time], it was a great learning experience with really civil dialogue [among classmates]." To this day, she has a strong mentorship with her former professor, Dr. Anthony Andrews, who has since left American University.
Representative Teague is keen on policymaking that has an open ear to the needs of her constituents. She recently spearheaded a bill now in the final approvement stages that will form an innovative aerospace program. Representative Teague, whose district borders the Tinker Air Force Base in Oklahoma City, explains that this bill will not only incentivize large and small business owners to stay in Oklahoma, but it will also diversify the state's budget beyond its hallmark oil and gas industries. If it is installed, it hopes to fortify and empower local business owners to work in the ever-growing aerospace sector.
When asked to comment on the impact of more women in seats of power, Representative notes that Oklahoma is 48th in the nation for women elected into office, adding:
"Women bring something unique to the table. More than anything, it's not about being a certain gender, it's about being the right person for the job." She concludes that with her state's current ranking, there is always room for improvement.
Lisa Curtis - Founder of Kuli Kuli and 2017 "Forbes 30 under 30" Selectee
While working in Niger through the Peace Corps, Washington Semester Program alumna Lisa Curtis discovered moringa. This nutrient-dense plant quickly became the impetus for the founding of her organization, Kuli Kuli, which enables women-led farming cooperatives, nonprofits, and family farms in Africa to tap into the American market, thereby providing these farmers with diversified resources for a sustainable livelihood.
In a report by AgFunder, Kuli Kuli Raised $4.25 million from a venture investment arm of the Kellogg Company. "It is also one of the first investments by a Fortune 500 company into a Benefit Corporation, a company that places social and environmental impact on an equal level with profit," it reports.
In the company's website, Curtis emphasizes the their mission to blend fundraising, farming, and grocery worldwide "to drive economic growth, women's empowerment and sustainable agricultural development. By rejuvenating moringa as a tool for nutritional security, we hope a new generation will imagine a world without hunger."
Donna Shalala - The first woman to lead a Big Ten Conference school, Former Health and Human Services Secretary of the United States
Like President Burwell, Donna Shalala was a Health and Human Service secretary for the United States, specifically under then-President Bill Clinton. She is considered the country's longest-serving HHS secretary and the first Lebanese-American to serve in a Cabinet position. As our Honorary Alum during the School's 70th Anniversary, she spoke highly of her time in the Washington Semester Program, noting "after graduating, I used the direction and confidence I got with the Washington Semester to join John F. Kennedy's Peace Corps, helping build an agricultural college in Iran. That launched me on a career that took me to wonderful places in academia and government."
If having a deep seat in politics isn't enough, Ms. Shalala is also the former president of the University of Miami, with additional experience in high-up positions at Hunter College and the University of Wisconsin-Madison.
Sarah Husseini - Second Secretary Elections Officer at the Permanent Mission of Saudi Arabia to the United Nations
It's not every day that you come across a young professional who began her tenure with the United Nations at the age of 22 - let alone while tackling two masters degrees and, at the moment, a PhD.
But for elections expert Sarah Husseini, this is a drop in the ocean in what has been a fulfilling and productive career in foreign service.
In her own words, Husseini is a product of post-911 world affairs, being half American and half Saudi Arabian. Her thorough schooling between the two nations was funded by a Saudi Arabian cultural initiative that brought hundreds of thousands of Saudi students in the US and other countries. Her experience as an undergraduate at American University and as a participant in the Mentorship Program and Washington Semester Program fueled her passion for soft diplomacy.
Husseini's work covers everything from the establishment of diplomatic relations between the Saudi Arabian government and other governments (her team just helped formalize government relations with Rwanda in March), to spearheading projects within cultural and educational diplomacy, to organizing multilateral elections campaigns.
"It has been a nice way to highlight the ability of female foreign service officers, because the foreign service field tends to be a bit of an old boys club, which is certainly changing over time," she says. "In a multilateral setting where the offices tend to be much larger and [cover more issues], there is a need for members of diverse experiences."
Husseini points to an example from her campaign work to elect their first female Vice-Minister to the Committee on the Elimination of Discrimination Against Women. She notes that having a woman in charge of a campaign that directly serves the community of women already contributes to nuanced and empathy-driven decision making.
With that, she adds,
"I think it's time that American University - one of the most politically active and prominent universities in the DC region - has a female president. It's a very timely change. I wish her the best success and hope that she will lean on the alumni for anything that she might need during her tenure."
***
Newly-inaugurated President, Sylvia Burwell, is a known champion of lifelong learning and real-world education - the very things that make up the heart of the School of Professional & Extended Studies. In her video greeting to SPExS 70th Anniversary reception attendees last fall, she shared:
"When I was a student, I loved learning in the classroom. But learning beyond a campus borders made the most of that, and truly made an impact on where my career and life would take me. American University has long been on the forefront of combining curricular education and engagement with the broader world….These programs [at the School of Professional & Extended Studies] have helped build the workforce of the 21st century, shape the leaders of tomorrow, and transform the lives of students from around the globe."
Perhaps this American Magazine profile on Ms. Burwell says it best: We're lucky she's ours. We congratulate President Burwell in becoming a pivotal part of the university community. As is natural with a School that is bent on the advancement of education and work, we look forward to what the future will bring us.
*Photo of America Ferrera Courtesy of AP