Faculty and Staff Success Story
Dean Peter Starr
Reflects on college's "extraordinary strengths," targets areas for growth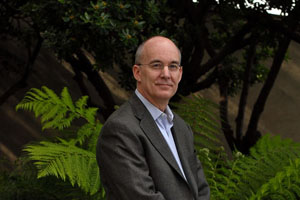 A stronger research profile, more external funding, increased levels of giving by alumni, parents and friends—for Dean Peter Starr, each of these positive results flows from the same fundamental strategy: "Here in the College at AU, we need to emphasize our distinctive areas of strength while aggressively promoting our academic culture, beginning with our capacity to build cutting-edge research into all that we do."
Starr believes the College of Arts and Sciences is uniquely positioned to elevate the university's standing. "More often than not, a university's overall reputation hinges on the reputation and selectivity of its undergraduate programs. And we all know how central colleges of arts and sciences are to that," Starr says.  Thus, raising the College's profile within and beyond the AU community "will almost by definition increase the research and funding profiles of the university as a whole."
In his first full month as dean, Starr has become more convinced than ever of the College's "many extraordinary strengths"—a faculty deeply dedicated to undergraduate and graduate teaching, a rich array of creative experiential learning programs, and a strong tradition of local and global service. 
In working to identify strategic areas of growth across the College, however, Starr finds himself coming back to the untapped potential of the university's location in Washington, D.C. "We know that D.C. is a major engine of undergraduate recruitment," he says. "What we've not yet done sufficiently is to strike partnerships with area institutions that will allow us to offer a distinctive, research-driven experience to our undergraduate and graduate students alike."
How might doctoral programs in ecosystems science or the humanities fully exploit the potential of AU's Washington location? How might the College recruit more undergraduate majors into the sciences and mathematics by offering them, with the help of AU's other schools, cutting-edge training in science policy and communication? "These are but some of the questions," Starr notes, "that I look forward to exploring with College faculty in the months and years to come."