Research Success Story
D.C. Playwright Draws Students into the Action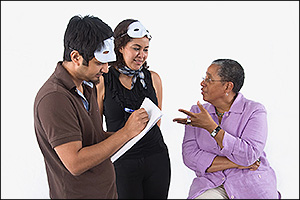 Students of award-winning theatre professor Caleen Jennings are often cast in an unfamiliar role: collaborator.
For her recent children's play, Chem Mystery, students took center stage in the creative process of writing and performing.
"I was teaching a children's theatre course, and I required each student to write his or her own children's play as part of that course, and perform in mine," Jennings said.
"I was using my play as a model of best practices," said Jennings, who brought in scenes for her students to read and then asked them to imagine what they thought happened next. As she cast the play, she wrote it while the students were composing their own plays.
Acting in Chem Mystery "was way more labor-intensive than they thought because performing a play for children, you have to be at the pinnacle of your craft," Jennings said. "If you're not believable, children will let you know immediately."
Author of more than 80 plays, Jennings is that rare writer who is equally at home writing for children and adults. She is a two-time nominee for the Helen Hayes-Charles MacArthur Award for Outstanding New Play for Playing Juliet/Casting Othello and for Inns and Outs, for which she also won a grant from the Kennedy Center's Fund for New American Plays. Her play Classyass won the Actors Theatre of Louisville's Heideman Award.
Yet she didn't start out to be a playwright. Two lightbulb moments illustrate her change in direction.
The first flash of insight came in the late 1960s, when she was a graduate student in NYU's Tisch School of the Arts. Her husband, listening to Jennings complain about the lack of good roles in the plays she was auditioning for, suggested she write her own.
Her second epiphany came after she auditioned for a poorly written play—and didn't get the part.
"Coming out of the audition I said, 'I can write better than that,' and the lightbulb went on and I've been writing since then."
She counts as her creative lodestars August Wilson, Lorraine Hansberry, and Shakespeare but credits Neil Simon with teaching her an important lesson. At his peak, Simon produced at least a play a year, a discipline Jennings has emulated.
But how does a prolific playwright who also cochairs AU's Department of Performing Arts maintain her edge?
Being with "colleagues who are so passionate and engaged, with students who want to learn, in this city where there's all this theatre going on—unless you're heavily anesthetized you're going to get hooked and going to get engaged," Jennings says.