Research Success Story
IT Consultant Prescribes Open Innovation for Pfizer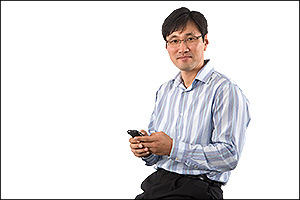 A savvy, high-tech guide, Gwanhoo Lee is helping corporations navigate the challenges and harness the opportunities presented by Web 2.0 innovations.
A professor in Kogod's Department of Information Technology, Lee researches "open innovation," or the ways in which companies use social media like Facebook to improve service and connect with users.
He's working with Pfizer on a groundbreaking Web site that solicits ideas from the pharmaceutical company's 80,000 employees about how to better serve customers' needs. Employees can vote and comment on the ideas—the best of which will help shape Pfizer's new strategic plan.
It's a "radical idea," says Lee, and one that's putting Pfizer on the cutting edge of information technology and strategic management. "Who has a better understanding of customers' needs than the people who interact with them on a daily basis?" asks Lee, who serves as a principal investigator on the project.
"This is an industry trend," he says, and if companies don't jump on board, "they will be left behind."
Lee, it seems, has always been a trendsetter.
An industrial engineer by trade, the native South Korean left a promising career with Samsung Electronics in 1998 to pursue a doctorate in information and decision sciences at the University of Minnesota.
At the time, "the field of IT was exploding." Lee could see IT "was changing the way business was done, and the way that we live our lives," and he wanted in on the extraordinary ride.
As a PhD student, Lee was bit by the teaching bug and happily opted to pursue a career in academia. "I really enjoy research and interacting with my students. Life is too short not to do what you love," he says.
Lee says his research—which also focuses on how organizations implement information systems—informs his teaching, and vice versa.
"Very fortunately, I teach what I research, and that seems to resonate with students. When they ask a lot of questions and get excited about the material, that energizes me.
"As an academic, it's very easy to get disconnected from the rest of the world," Lee continues. "Intellectual engagement with practitioners, academics, and students is key—without that, it's really difficult to sustain the passion around what you do."
Lee also serves as associate director of Kogod's Center for Information Technology and the Global Economy. Every three months, the center hosts 30–40 academics and chief information officers from such organizations as Marriott and the World Bank to discuss industry trends. The brainstorming sessions have spawned research collaborations and workshops, which are open to AU students.
It's that shared purpose, that collective curiosity—both in the classroom and in the boardroom—that drives Lee's work. "The more people willing to bounce around ideas, the better," he says.