Alumni Success Story
Al-Ghabra Takes Skills to Prime Minister's Office in Kuwait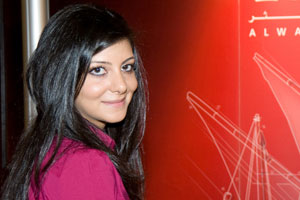 SOC alumna Haneen Al-Ghabra has used her education to create a space for women as equal partners in the Arab world, and says that communication is a vital industry in society, particularly in her native Kuwait.
"It's an important facet of the world because it tells a certain public or culture what to think and what to perceive," she said. "It is a very powerful tool and unfortunately used in the wrong way in the Arab World."
Since receiving her BA in Communication in 2003 and her MA in Public Communication in 2004, Al-Ghabra has been working mainly in strategic communications. She became the Communications Manager in the Kuwaiti Prime Minister's Office in June 2010.
"I am responsible for ensuring message consistency at both a governmental level and for the Prime Minister himself," Al-Ghabra said. "Our department is responsible for branding, media relations, public perception and strategic communications."
Al-Ghabra was recruited and trained for her current position by the office of former British Prime Minister Tony Blair, who was working as a consultant to the Kuwaiti government.
"It was an amazing experience," she said.
During her time at AU, Al-Ghabra published two articles on both the role of religion in society and the transition of women from passive to active leaders in overcoming oppression in Palestine. She said the experience she gained at SOC, which included internships at the World Bank and the Middle East Institute, prepared her for her newest role.
"I was looking for coursework that combined both theoretical and real-life practice work which is what I found to stand true at AU," she said.

Al-Ghabra has overcome a series of challenges in her life, including a motorcycle accident during her time at AU that left her bedridden for four months. Still, she graduated Cum Laude.
"It was so difficult to … sustain my academic standing," she said. "The accident affected me in a multitude of ways, and made me more determined to finish."
Al-Ghabra said the struggle she faced between the independence she felt and her return to the traditional values in Kuwait was difficult, and that her education inspired her to pursue a PhD in communication. Although there has been progress for women in the Arab world, such as women gaining the right to vote or serve in Parliament in Kuwait, she said there is still a long way to go.
"We still lag behind, and women here face a vast glass ceiling like no other society," she said. "I think women need to be empowered through communication."
Public Communication Prof. Lenny Steinhorn, who Al-Ghabra said was a major influence while she was at AU, called her work inspiring.
"Haneen didn't just come here to get an education — she came here to get an education that would make a difference in the lives of people back home," Steinhorn said. "From day one it was clear that Haneen refused to accept a status quo in Kuwait that denied women basic rights, including the right to vote, and she learned strategic communication to help change things. I admire her spirit and determination."