Faculty Success Story
Professor Wins National Award for Work on GLBT Issues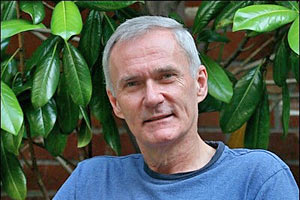 SOC professor Rodger Streitmatter has received a prestigious national award that recognizes both his teaching and his scholarly work. The Roy F. Aarons Award honors Streitmatter's "tremendous contribution to education and research in GLBT issues," according to the Association for Education in Journalism & Mass Communication. The organization presents the award to no more than one professor each year.
Streitmatter's most recent book, published in 2009, is From "Perverts" to "Fab Five" ~ The Media's Changing Depiction of Gay Men and Lesbians. It traces how three media genres—TV, film and journalism—have portrayed members of the GLBT community over the last 50 years.
Individual chapters focus on topics such as the TV shows Will & Grace and Queer Eye for the Straight Guy, the films Philadelphia and Brokeback Mountain, and news coverage of issues such as gays in the military and same-sex marriage.
In reviewing the book, professor Genelle Belmas of California State University, Fullerton, wrote, "Rodger Streitmatter's clear, conversational prose guides readers effortlessly through the decades to address essential questions about why and how media representations of gay men and lesbians have changed so profoundly." Belmas called the book "a must-read for anyone interested in shifting media representations."
Last academic year, Streitmatter used From "Perverts" to "Fab Five" in two of his courses—Understanding Media in the fall and Media & the American Mind in the spring.
Another of Streitmatter's books is Unspeakable: The Rise of the Gay and Lesbian Press in America. Published in 1995, the book is widely regarded as the definitive history of this country's GLBT newspapers and magazines.
Streitmatter also has published a long list of articles and book chapters on the relationship between the media and the GLBT community.
Fellow SOC faculty member Angie Chuang nominated Streitmatter for the award.
"I've come to appreciate the scholarly contributions Rodger has made as I've taught and spoken about his books and writings, including those addressing gay and lesbian issues in the media and popular culture, in my classes and guest lectures," says Chuang. "As he has for many junior faculty in SOC, Rodger has been a generous and astute mentor of mine. When I heard about the Roy Aarons Award, it only seemed natural that Rodger should be a candidate. I'm so glad the leadership at AEJMC agreed."
The Award is named for Roy F. Aarons, a reporter for the Washington Post and vice president of news for the Oakland Tribune. He later taught at the University of Southern California and founded the National Lesbian and Gay Journalists Association in the early 1990s. Aarons died in 2004.
The award was presented during AEJMC's national conference in Denver in August, 2010.