On Campus
Winner Announced for 2013 Bowles Endowment Award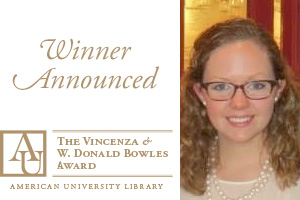 The American University Library is pleased to announce that the 2013 winner of the Vincenza and W. Donald Bowles Endowment Award for the Study of Productivity, Income and Poverty in the United States is Elizabeth Crowe, a PhD Candidate in the Department of Public Administration and Policy in the School of Public Affairs at American University. Crowe received both a BS and MA in Economics from the Department of Economics at American University.
Crowe's research examines the use by low income families of public assistance from government programs and private assistance from community based non-profit organizations and others. Her work is an excellent example of the socially conscious and innovative scholarship for which American University is known. The importance of building an understanding of income inequality cannot be overstated—and the research undertaken by Ms. Crowe supports Dr. Bowles' vision of better understanding the income gap faced by our society. Dr. Edmund Stazyk, Assistant Professor in the Department of Public Administration and Policy, expressed enthusiasm for Crowe and her research, stating: "Elizabeth is an earnest and skilled researcher conducting original research in the field of public policy."
The Vincenza and W. Donald Bowles Endowment was established by Professor Emeritus Donald Bowles to support an undergraduate or graduate student conducting research or other scholarly or artistic efforts to understand the relationships between productivity, income, and poverty in the United States. In Dr. Bowles' own words: "Widening income disparities and deep inequalities of wealth holdings highlight a classic source of friction in our democratic republic—namely, the need for continual reassessment of balancing collective government efforts to improve the human condition relative to private efforts toward the same end. How to achieve this appropriate balance is a question dating to our very founding as a nation."
The dissertation research conducted by Ms. Crowe reflects her keen interest in both public policy and social justice. Crowe states that this research
will provide an understanding of how low-income families patch together assistance from a disjointed, sometimes dysfunctional safety net of services. The findings of this research will be significant for researchers, policy makers, and frontline workers delivering services to these families. For researchers, the findings in this work will expand the definition of the safety net and ground future research in a more comprehensive framework reflecting the real world choices made by families under financial stress. For policy makers and frontline workers, this research will provide a roadmap for better coordination of safety net services. For these reasons, this is a translational research project with the potential to ground multidisciplinary collaboration by bringing the knowledge created through academic research to the structuring of point of service support for low-income families.
The applications for the award were truly outstanding and represented a wide range of disciplines and research concepts. The panel of faculty judges was happy to witness firsthand the high level of scholarship, creativity, and interest in social justice exhibited by the participating American University students. Receiving so many excellent submissions in the first year of this award is a testament to the caliber of the student body. The American University Library was pleased to have such a strong pool of applicants and is delighted to recognize Elizabeth Crowe as the 2013 recipient.