Business
Rockin' in the Free World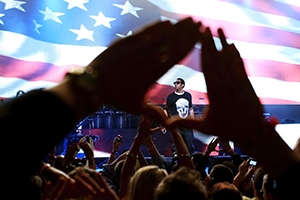 Summer concert season is underway. And for many musical artists, live performances have become an economic necessity. Musicians used to go on tour to promote their new album, but nowadays, the situation is almost reversed. The album might not earn much profit, but it can help build enthusiasm for a money-making concert performance.
The financial turmoil facing the record industry has been well-documented. Yet John Simson, an executive in residence at American University's Kogod School of Business, is in a strong position to evaluate the challenges of making profitable music in the digital age. Previously, Simson was a recording artist, entertainment lawyer, and executive director of SoundExchange, an organization that collects royalties from satellite radio and online services for musicians and record labels. In an interview, Simson assesses the current state of the music business.
Can You Break Records if Records are Broken?
Simson talks about how selling the album as product became unsustainable. "We used to be in the business of selling pieces of plastic. And now we're really more in the service business. And whether it's people subscribing to Spotify or the new Apple or Tidal or Pandora, there's more and more consumption through listening," he says.
As the saying goes, records are made to be broken. Yet the top selling album of all time, Michael Jackson's Thriller (1982), may stay in the top slot for quite a while. Though numbers are difficult to ascertain, The New Yorker published estimates from a French researcher in 2013: Of the top 10 highest selling albums ever, not one of them was released this century. The most recent album in that top 10, Shania Twain's Come on Over, was released in 1997—the year that the average incoming AU freshman was born.
This evolution was driven by technology, Simson says. But he adds that changes in musical tastes also contributed to the demise of the album.
"Consumers had always wanted to be able to buy individual tracks. And yet record companies knew that their best business model was getting the consumers hooked on a single, and then making them buy the album. If you can sell a single for a dollar, you can sell an album for $15," he says. "If it was a group like the Beatles or Pink Floyd or any number of artists where the fans wanted to own the whole album, the business model worked fine. But when you were looking at artists like the Backstreet Boys—or these more disposable singles pop acts that kind of ruled the 90s—consumers didn't really want to have to buy the filler tracks. They just wanted the hits."
Streaming Services
Through file sharing and downloadable songs, Napster took the music world by storm in the late 1990s and early 2000s. Having recently signed on to help the Recording Industry Association of America, Simson was deposed by Napster during a legal battle at the time. (Although he says it was a short deposition that didn't yield anything.) Simson says that while the record industry didn't see the Napster onslaught coming, they were well-prepared for other aspects of the digital age.
In 1995, Congress passed legislation enabling musicians to get paid when their music is streamed online. Simson was part of a coalition that pushed for the law, and streaming services like Pandora still benefit from it, he says.
"It's a compulsory license, which means that no one can say, 'I don't want to be part of it.' So, for example, when Taylor Swift said, 'I don't want to be on Spotify,' she could do that because Spotify doesn't qualify for this license. Whereas Pandora qualifies for the license, so Taylor Swift can't say I don't want to be on Pandora," he explains.
Unlike Pandora—which is more like a personally-curated radio station—Spotify allows the consumer to pick songs on demand. Its expansive library is a treasure trove for consumers—something akin to the mythic "Lester Bangs' basement," where you can play almost any music, any time. Spotify is a serious concern for artists and record labels, though.
Despite this dilemma, Simson believes there are pieces in place for musicians to earn profits. Years ago, the average person bought roughly three CDs a year—maybe $50 worth, with $25 for the record company and some trickling down to the artist, Simson explains.
"With Spotify, if people actually paid for the premium service, which is about $10 a month, there's $120 being generated per consumer. Sixty percent of that goes to the record company, so that's $72 a year. Maybe another 10 percent, $12, goes to the songwriters and music publishers under a separate license," he says. "So if Spotify were only subscription, it'd be a fabulous business for the record companies." But as Simson notes, Spotify listeners overwhelmingly just use its free service rather than paying for the premium option.
Another nascent streaming service is Tidal, recently acquired by hip hop mogul Jay Z. He's enlisted a number of big-name artists as stakeholders, including Rihanna, Kanye West, and Daft Punk. Simson says it's too early to tell whether it will work, but the concept is similar to HBO—a network that's profited from exclusive content like The Sopranos and Game of Thrones.
Live Performances and the One-Percenters
With a desire to spend more time in the recording studio, the Beatles famously stopped touring in 1966. Hardly any rock critic second-guesses that decision now, as the Fab Four went into creative overdrive and produced seminal albums Sgt. Pepper's Lonely Hearts Club Band, The Beatles (The White Album), and Abbey Road. Bands might not have that luxury today, and Paul McCartney himself still pulls in hundreds of millions of dollars from touring.
For big acts filling up stadiums, this system usually pays well. "When you're dealing with Taylor Swift or the Rolling Stones or people like that, typically they are walking out with a very large percentage [of the ticket proceeds]," he says, even after money is set aside for ushers, security, promoters, and agents.
This emphasis on concerts could leave studio-centric artists out in the cold. But he notes how some bands have found new ways to generate excitement through touring. Last year, Arcade Fire covered popular local artists in each city the band played. "So when they came to D.C., they played a Fugazi song. When they were in Minneapolis, they played a Prince song. And it's a very cool way to tie yourself to the local community," he says.
Lesser-known bands can still make a living playing smaller venues, he says. But the music business is experiencing the same wealth inequality pervading the rest of the economy. "Eighty percent of the money generated by iTunes comes from 1 percent of the tracks," Simson says. A sizable percentage of songs on Spotify are never even played once, he adds.
In general, Simson sees reasons for optimism in the new service-based music model. SoundExchange, which generates most of its revenue from Pandora and SiriusXM Satellite Radio, now collects about $1 billion in royalties annually—with a steady portion going to the artists.
Business and Entertainment
Simson serves as program director for Kogod's business and entertainment program, which now has BS and minor options. Two of his students are currently interning with accounting firms in the entertainment industry. Several people in the program are working at Sony this summer, and he also has a student interning with MTV. "Some of my students are planning to go to law school and become entertainment lawyers, and some of them are creatives and will probably go out and start their own businesses," he says.
Many of his students have had artistic aspirations at some point. Through the Kogod program, they're finding new ways to get into the entertainment business, a career trajectory that Simson can identify with.
A former solo artist who once opened for Jethro Tull, he eventually became manager for multi-Grammy-winning artist Mary Chapin Carpenter and served as a special adviser to legend Harry Belafonte. "I think I said, 'Ok, Jethro Tull, they're way better than I am,'" he says, "but I could get involved behind the scenes."