Student Life
Deciphering American University's Class of 2019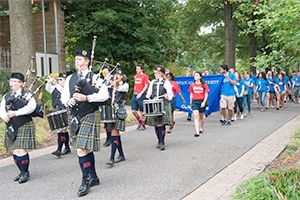 Freshman Stats

1.   Competition for admission at American University is intense. At 35.1 percent, AU had its lowest admit rate in the school's history. It's a decrease of 11 percentage points from the previous year.
2.   Nearly 33 percent of incoming freshmen were accepted early decision.
3.   The average high school GPA for freshmen was 3.66.
4.   AU is increasingly attracting students outside the Northeast. Almost 28 percent of first-year students came from the South and West.
5.   The school continues to build a diverse student body. About 35 percent of freshmen are minorities.
6.   Nearly 11 percent of freshmen are first-generation college students.
A lot has changed since 1997, the year that the average incoming AU freshman was born.
7.   People have always been able to communicate via text, as well as download media content on their mobile phones. In 1997, Nokia was the first company to produce a mobile phone with a full keyboard.
8.   You could pretty much always Google something on the web, as the search engine's domain name was established in 1997.
9.   Cloning a mammal has always been possible, not just science fiction. The "Dolly the Sheep" clone was announced in 1997.
10.   People under the age of 18 could never buy cigarettes, as this Food and Drug Administration rule took effect in 1997.
11.   You could always look up symptoms on WebMD, and keep illnesses at bay with hand sanitizers. (Both were made widely available to consumers in the late 1990s.)
12.   Paul McCartney has always been called "Sir," as he was knighted in 1997.
13.   Madeleine Albright became the first female Secretary of State in 1997, and the class of '19 has known more women than men in that role. Albright, Condoleezza Rice, and Hillary Clinton collectively occupied that position for roughly 12 years.
14.   This generation generally consumes music through streaming services and digital downloads. As noted in a previous story, the best-selling albums of all-time were predominately released before these students were born.
15.   The Boston Red Sox and the San Francisco Giants have fielded pretty strong teams. Though long ensnared by the "Curse of the Bambino," the Red Sox won World Series titles in 2004, 2007, and 2013. The San Francisco Giants were World Series champs in 2014, 2012, and 2010. Before that, the Giants hadn't won a title since they were the New York Giants, in 1954.
16.   People have grown accustomed to tight presidential races and a polarized electorate. Democrats controlled the House from 1955 to 1995, but party control of both houses of Congress is now more fluid. Republican House control: 1995-2007; 2011-present. Democratic House control: 2007-2011. Republican Senate control: 1995-2001; 2003-2007; 2015-present. Democratic Senate Control: 2001-2003; 2007-2015.
(Editor's Note: The numbers used in the freshman stats section are based on when incoming students made their deposits.)