Science
The Science Guy at AU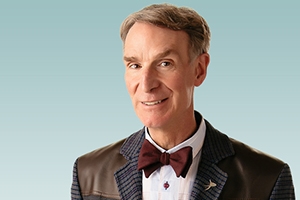 Bill Nye the Science Guy's newest book is called Unstoppable: Harnessing Science to Change the World. But that title of "unstoppable" might as well be describing Nye, a brilliant and powerful voice for scientific inquiry. Nye has embraced multiple platforms—from TV to social media to podcasts—to educate the public about climate change and the overall importance of science. And now he's coming to speak at American University, with a special appearance in Bender Arena on February 9 at 8:15 p.m. The event is presented by the student-run Kennedy Political Union and the College of Arts and Sciences, and it includes co-sponsorship from AU's Women in Science.
Science in the Public Interest
AU is a fitting forum for Nye's message. His book calls on a new generation—including college students—to create a cleaner and healthier environment. In addition, the university is making huge strides in the sciences. The Center for Behavioral Neuroscience was established in 2012, and the new East Campus will include a cutting-edge Don Myers Technology and Innovation Building.
"Bill Nye has inspired many people to go into science, and in particular has been a relentless advocate for women in the sciences. His science advocacy is shared by American University, which is committed to producing the science and science policy leaders of tomorrow," says Peter Starr, dean of the College of Arts and Sciences.
And since AU is a civic-minded institution, Nye's ability to place science in the public interest should resonate with the student body. Nye is "unafraid to tackle the tough issues of our time," Starr adds. "His passion and proactivity are a wonderful example for our students of how to turn your convictions into action."
For the Masses
Much like his friend, Cosmos host Neil deGrasse Tyson, Nye has achieved celebrity status for his ability to translate complex scientific concepts. He now has a whopping 2.68 million Twitter followers. He'll sound alarm bells on the nexus between climate change and terrorism, but he'll also wade into smaller issues like the Deflategate controversy that dogged the New England Patriots.
"Bill has found this great way to make science interesting and relatable and entertaining to the masses," says Matthew Hartings, an AU chemistry professor.
Though Hartings is also active on Twitter, he doesn't believe every scientist needs to assume such a public role. Yet he praises Nye's willingness to engage with new audiences. For instance, Nye famously defended the science of evolution in a highly-publicized debate at the Creation Museum in Kentucky.
"He goes out and actively finds people who disagree with him, just so they can talk in a high-profile way," says Hartings. "He brings a sense of humanity and openness to science."
His Home City
Nye is a Washington, D.C. native who attended Sidwell Friends School. He later graduated from Cornell University with a degree in mechanical engineering. According to a 2013 New York Times profile, he worked as an engineer for Boeing and did stand-up comedy before getting involved with a TV show on science for children.
He eventually hosted Bill Nye the Science Guy, a Disney and PBS program that aired in the 1990s. The show, which is currently streaming on Netflix, was one of many outlets that showcased Nye's humor and erudition. Those same attributes, no doubt, will be on display here in February.
For information on tickets for AU students, check the KPU Facebook page.
For information on general admission tickets, check Eventbrite.