Research
AU 2030: Lindsay Grace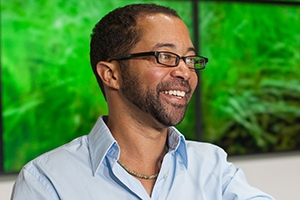 Like the Choose Your Own Adventure books he read as a kid, Lindsay Grace's career could have gone a number of different ways. He's worked in mutual funds, industrial supply logistics, and he even started a dot.com that sold club paraphernalia. But in working as a professor, game designer, and researcher, he discovered a true calling. And in a roundabout way, his previous experiences contribute to his current work.
"So this is actually my third or fourth career, which informs the way I design, and even manage the game lab. I worked in places I thought would be intellectually engaging," says Grace, now an associate professor at American University's School of Communication.
Silver Linings
Despite this circuitous career trajectory, games were an integral part of his Massachusetts childhood. Beset by systemic-onset juvenile rheumatoid arthritis (JRA), he found a silver lining in being sick at such a young age. "The hospital had a room of arcade games. That was the first time I ever saw one, and I fell in love. If you got enough blood draws or you had a rough day, they let you go play in there," he recalls.
In addition, the public school he attended got money from IBM and had a computer lab. He even started designing his own video games. "I was one of those kids who wanted to do. The books I took out of the library," he says, "were sketching books, how-to-do science books, and books on programming."
This was a harbinger of things to come: His academic areas of study—digital games and persuasive play—are very much in the realm of "active learning."
Game(ing) Theory
There's a science behind why we play, and it's linked to human development. "It's an opportunity to practice skills that you need in the real world. And at the same time it's an opportunity to experiment in a safe space," Grace explains. "If you think about how kids play with blocks, they're trying to understand physics. Now, they may not come to you and say, 'I'm learning physics.' But that's essentially what's happening."
Grace hopes to create or facilitate change through play experiences. Games do not simply help the individual, but possess a much larger social impact. The game can be a model for how to build and improve society.
"Classrooms have been using Civilization to help students understand the relationship between a new technology and social change," he says. "So say I create the Gutenberg Press...In order for it to be valuable, I need a literate population, and then after that I actually can pass knowledge much more easily than I could before."
Grace praises Darfur is Dying for instilling people with empathy towards a human rights crisis in Sudan. And he says that pre-video age games such as Monopoly also had a purpose. Lizzie Magie, who created the precursor to the popular board game, was trying to demonstrate how landlords impoverish the population.
Grace does traditional research—publishing theoretical papers and controlled experiments—and creative research, which includes curating exhibits for independent games.
He designs games that are both experiential and imaginative. In 2013, he took students to San Francisco to create The Tell-Tale Heart, about the famous Edgar Allan Poe short story. A mobile game, they attempted to make the player's experience emulate the first-person narrator's. "The first motions are very managed. But then the longer you play, the more erratic they get, just like in the narrative," he says.
Moving Fast
Before coming to AU in 2013, Grace was a professor at Miami University in Ohio. He is now director of the AU Game Lab and Studio, a multidisciplinary initiative run by SOC and the College of Arts and Sciences. Grace and his SOC and CAS colleagues have made inroads into D.C. research communities, and they're growing AU's presence in the gaming world.
They got a grant from the Knight Foundation to study the intersection of games and journalism, and they've done work with the Educational Testing Service and the World Bank. As part of an initiative with the National Institute of Mental Health, they're creating a game to help people deal with anxiety.
Grace is vice president of the Global Game Jam, which held its D.C. event at AU in late January. Teams from all over the world design and create digital and non-digital games, in just one long weekend. Grace marvels at how it all comes together. "To say that you got 30,000 people that you organized to do something on a Friday, and complete it on a Sunday, is huge," he says.
Grace talks fast and displays a frenetic exuberance. Even in his spare time, he's an Autocross racer. Yet he's thought long and hard about his field. He believes that games represent a "liberal education for the 21st century," since designing them requires everything from computer science to sociology.
"The contemporary games we play, the digital spaces, are largely about us experiencing other sides of ourselves," he says. "It's basically experimentation and exploration."