Government & Politics
Donna Brazile to Accept the 2016 Wonk of the Year Award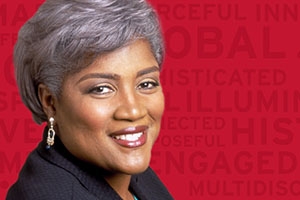 WOTY
If you're hoping to build a career in Washington, you could learn a lot from Donna Brazile. This spring, American University students will get that chance: Brazile is set to appear in Bender Arena, where she'll address the AU community and accept the 2016 Wonk of the Year award. Since the ceremony's inception in 2012, she is the fourth person to achieve this distinction, following Bill Clinton, Anderson Cooper, and Laura Bush.
The Kennedy Political Union, a student-run lecture series at AU, is hosting the event on Thursday, March 24 at 8:15 p.m. The Wonk of the Year award celebrates someone who embodies certain values: intelligence, passion, focus, and engagement. And Brazile has spent a lifetime engaged in the issues of the day.
Political Connections
Brazile has pretty much done it all in politics. She's a veteran campaign strategist, prolific and informed media commentator, and politically connected insider. A Democrat, Brazile worked on every presidential campaign from 1976 through 2000, when she took the helm of then-Vice President Al Gore's operation. In working for Gore, she also made history, becoming the first African-American woman to manage a presidential campaign.
A New Orleans native, she worked on recovery issues after Hurricane Katrina and sat on the Louisiana Recovery Board. She reflected on her life and career in her memoir, Cooking with Grease: Stirring the Pots in American Politics. She also discussed her upbringing on the PBS show Finding Your Roots with Henry Louis Gates, Jr.
The WOTY award is the latest recognition of many for Brazile. O magazine named her to a list of 20 remarkable visionaries, and Essence magazine called her one of the top 50 women in the U.S. More than a few colleges, including Louisiana State University and Grambling State University, have bestowed her with honorary doctorate degrees.
In recent years, she's been an on-air contributor for CNN and ABC and vice chair of voter registration and participation at the Democratic National Committee. In addition, she ventured into acting, appearing on Netflix's House of Cards and CBS's The Good Wife.
Celebrating History
The WOTY award forum also coincides with Women's History Month, which KPU and the Women's Initiative are working together to highlight. They're using the hashtags #HerStoryatAU and #WHMatAU for posts related to Women's History Month, and they'll feature strong female students and alumni.
For the Brazile appearance, tickets will be available at this Eventbrite site at 1:00 p.m. on March 1. The WOTY hashtag is #KPUBrazile.