Student Life
Admitted to AU? 10 Reasons You Need to Be an Eagle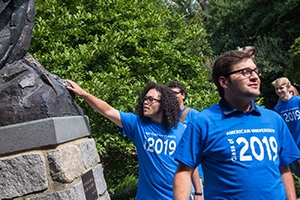 If you were offered a place as an undergraduate in AU's class of 2020, congratulations—you're part of an elite group.
In two short years, AU has become much more selective. For fall 2016, AU admitted only one of every four students—this out of a record number of more than 19,300 applicants. The result? A 20 percent drop in AU's admit rate since fall 2014.
More than half of all freshman identify AU as their first choice. Below, 10 reasons you need to join their ranks and become an Eagle this fall.
1. Washington DC is your classroom. Eighty-nine percent of AU students complete internships before they graduate, netting them valuable professional experiences and connections as they enter the workforce or prepare for graduate school. Everyone knows DC is the place to be for politics, government, international affairs, and communications, but we also have some of the most prestigious organizations in the world in other fields, including science (National Institutes of Health, National Science Foundation, National Institute of Standards and Technology); arts and humanities (the Smithsonian Institution, the Kennedy Center for the Performing Arts); and business and finance (World Bank, International Monetary Fund, the Federal Reserve, the US Department of Treasury).
2. Learn from the best and most influential. AU competes with the nation's most elite institutions for faculty and wins its share, with recent hires from Columbia, University of California–Berkeley, Stanford, Georgetown, Northwestern, Syracuse, University of Arizona, University of Missouri, LSU and University of Glasgow. Faculty members are accomplished scholars and experts in their fields, whether they are a two-time Academy Award winner or a scientist whose research contributed to the recent confirmation of Einstein's theory of relativity.
High-profile public figures and world leaders regularly come to campus. President Obama has been here four times since 2008. A few weeks ago, Canadian Prime Minister Justin Trudeau shook students' hands and answered their questions. And then there are the highly-accomplished alumni who visit, such as Lonnie Bunch, the founding director of the highly anticipated National Museum of African American History and Culture.
3. Innovation that educates, engages, and encourages. You expect more from your college experience than learning in the confines of four walls during the next several years. That's why AU offers a recently-expanded variety of rigorous living-learning programs, as well as numerous opportunities to conduct research at the undergraduate level. You may even work with a faculty member whose research is part of AU's sweeping commitment to tackling the issues that will be critical to the well-being of a global society by the year 2030. To that end, AU's reputation as a college-centered research institution is growing. Recently, the Carnegie Commission moved up AU's research classification to mid-level, putting AU in the scholarly company of institutions like William & Mary and Dartmouth.
4. Act on your aspirations, passions. Have an idea to address a pressing problem in the community, or see a way to meet a unique social or consumer need through a start up? With academic and non-academic resources devoted to social and for-profit entrepreneurship as well as community engagement, research, and learning, AU welcomes active citizens of all stripes.
5. A globally-engaged student body. Boasting more than 135 offerings across six continents, AU's study abroad program is among the best and most diverse in the US. With guidance from their advisors on selecting the right program, 60 percent of AU students study abroad before they graduate. Some even complete internships or pursue research as part of their study abroad experience.
6. New spaces for learning, living. AU has expanded its facilities by 1.5 million square feet in the last 10 years. Some of the most recent facilities include the School of Communication, the new law school campus in Tenleytown, and the soon-to-be completed residence halls and Don Myers Technology and Innovation Building on the East side of campus.
7. The DC-distinctive experiences you'll have as an AU student. Spruce up the National Mall during your first weeks of college. Trick-or-treat on Embassy Row. Go to a formal dance at the National Air and Space Museum. All are experiences had by AU students during their undergraduate years that they say they will never forget.
8. A front-row seat to the spectacle that is the 2016 presidential election. President Obama's eight years are ending and the front runners are anything but conventional. The contest is captivating the nation, but will be most interesting to experience first-hand in the city that the new POTUS will call home. Plus, where else but AU would you have an election watch party complete with a red, white, and blue balloon drop?
9. The "USA! USA! USA!" chant at Eagles games. No other student fan-base can use this clever chant to cheer on their home team.
10. TDR Mac and Cheese. You have to be an AU student to experience the epicurean joy it brings every Wednesday. It is that good.