Research
AU 2030: Taryn Morrissey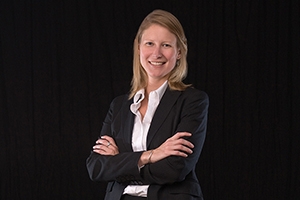 In recent years, politicians of all stripes have called attention to socio-economic inequality in the U.S. The problem resonates with angry voters, in part, because it affects their children. As Taryn Morrissey has found, systemic inequality is already apparent during the first five years of a child's life.
"The reality is that higher income parents are investing more and more in their kids, especially in day care and pre-K," says Morrissey, an assistant professor in American University's School of Public Affairs. "Low income kids simply don't have those resources. Sadly, a lot of them end up in really low quality child care settings, where they're watching TV or they're not exercising at all. And their potential is not being promoted."
Morrissey's research revolves around vulnerable children, and she's published studies on food insecurity, poverty, and obesity. Morrissey is now co-writing a book that will offer concrete proposals for paid parental leave, subsidized child care, and a re-imagined Head Start.
Her work falls under AU 2030 research areas such as health, risk, and society and metropolitan studies.
Food Insecurity and Cost
Despite that focus on inequality, Morrissey has discovered just how pervasive poverty and nutritional deficiencies can be. In a 2016 Children and Youth Services Review study, Morrissey and co-researchers found that about 13 percent of kindergartners in the U.S. lived in food-insecure households. While neighborhood poverty is a predictor of educational outcomes or long-term earnings, individual households—not zip codes—tend to determine food intake.
"In low poverty neighborhoods, or areas that we consider relatively affluent, there are kids who are food insecure," she says. "Even if you're poor in a relatively wealthy community, you may not have a car to get to the supermarket or the resources to buy food once you're there."
In a 2014 Pediatrics study, Morrissey, SPA colleague Alison Jacknowitz, and grad student Katie Vinopal found an association between the high cost of fruits and vegetables and children's higher Body Mass Index. Fresh produce is becoming increasingly expensive, Morrissey says, so people likely turn to cheaper snacks.
"If you're just looking for calories to fill your children, or to fill your own stomach, you're buying ramen. You're not buying apples and broccoli," she explains.
Children and Safety
Last year, there was a jaw-dropping article—Facebook feed worthy—about children and guns. You might mistake it for an Onion piece, but it was a true story in the venerable Washington Post. For much of 2015, American toddlers were finding guns and shooting people on a weekly basis.
This drew commentary about our nation's gun laws, but it also begged the question of why parents leave loaded firearms on living room sofas.
In a 2016 study published in the Maternal and Child Health Journal, Morrissey wrote that about 20 percent of all U.S. households with young children (two or younger) have at least one gun at home. Two-thirds of those households lock up their guns. But one-third of those households fail to keep the guns secure, and those parents are more likely to exhibit depressive symptoms.
"The toddler accidentally accessing a gun is really disturbing, as is a depressed parent," she says. "More people are killed by guns than car accidents now, and most of those gun-related deaths are by suicide."
Her research also found that mothers with depressive symptoms are less likely to keep children in secure car seats, and they're less likely to possess a working smoke detector.
Timing is Everything
Morrissey grew up in a tight-knit community on Long Island, N.Y. She went to college just outside of Boston at Tufts University, where she earned her bachelor's degree in psychology and child development.
"I was always interested in how people end up where they end up as adults, and how you could change that trajectory," she says.
She later earned her Ph.D. in developmental psychology at Cornell University. The dissertation mentors included not only psychologists, but an economist and a policy specialist. That desire to find real-world policy solutions for disadvantaged children led her to a job at the Senate Health, Education, Labor, and Pensions (HELP) Committee.
She worked under HELP chairs Edward Kennedy, D-Mass. and Tom Harkin, D-Iowa, and she assisted with the landmark Affordable Care Act. "My timing was really amazing, to work on health reform during that period," she says.
In fact, the Senate passed the ACA on December 24, 2009—not only Christmas Eve, but also Morrissey's birthday. She still keeps a framed copy of the Senate bill in her office.
Morrissey arrived at AU in 2010 before taking leave in 2013-2014 to work at the Department of Health and Human Services. She still utilizes her government experience, relaying Capitol Hill anecdotes to curious AU students and inviting Washington colleagues to teach guest lectures.
During her time at HELP, she also met her husband and they're now expecting their second child. Since becoming a mother, her research interests feel even more tangible. "I truly admired single parents before I had kids, but now I really don't understand how they do it."